Scooby Guru
Member#: 73805
Join Date: Nov 2004
Jaguar Wants A Volume Seller Small Hatchback Maybe Coming
---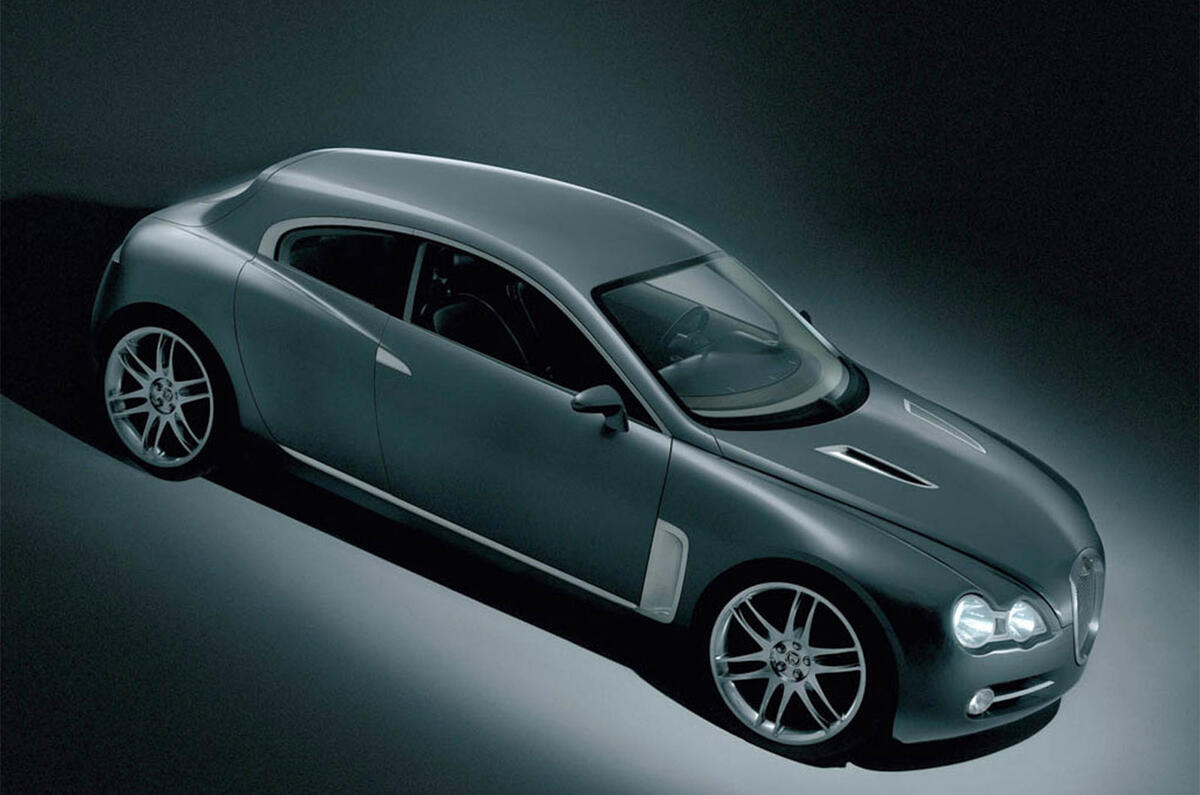 Concept from 2003
Quote:
Jaguar is weighing up a number of options for replacing its slow-selling XE and XF saloons, including a radical electrified saloon and a smaller, hatchback-style model.

The next 12 months will be crucial for Jaguar Land Rover as it attempts to recover from the huge financial disruption caused by the coronavirus pandemic. It's also a period in which the Jaguar brand will come under intense scrutiny as it searches for a formula that will deliver at least one more big-volume new vehicle to boost profits.

Jaguar hasn't ruled out directly replacing the two saloons but, with the market shifting away from such models, Autocar understands the firm is considering radical alternatives. One option is to replace both with a single, eco-focused compact saloon, likely offering both mild-hybrid and plug-in hybrid powertrains.

The other option, as hinted at by new Jaguar design chief Julian Thomson recently, would be to look at building a smaller car. Possibly about 4.5 metres long, it would be more elegant and styled in a more classical way than Germany's aggressively machined premium cars.

"I'd love to do some smaller cars," Thomson told Autocar, "and it feels as though the time is right. Jaguar needs a global product that could appeal to younger buyers, and more females as well.

"Our values are ideal for owners who want more efficient cars but still like design quality, luxury and cars that are nice to drive.

"But it's a tough sector. You need big numbers, which means big factories and a big organisation to sell them. But that's definitely where I would like us to be."

With the design language of most rivals focused on visual aggression, Thomson has clearly spotted the same opening as Ferrari when it launched the Roma coupé under 'la nuova dolce vita' branding: a classically styled car standing out in its line-up.

Jaguar's first attempt at a compact exec saloon is good - very good. But can the XE hold off the BMW 3 Series and Alfa Romeo Guilia to retain its crown?


Autocar understands one influence for the future is the RD-6, a 17-year-old compact hatchback concept that was the first public project of then new Jaguar design boss Ian Callum. Despite its age, this is looking relevant again as the industry faces up to stringent European Union regulations concerning CO2 emissions.

Entering the compact premium hatchback market could give Jaguar a very distinctive slot in a segment that's good for 800,000 units per year in Europe alone.

Aside from this being a segment Jaguar has never explored, such a car could, if aligned with the brand's three SUVs, deliver bigger volumes than the current core XE and XF models as the saloon market continues to dwindle around the world. Such a volume product would also give a boost to Jaguar's dealers.

But perhaps the main industrial problem facing Thomson's vision is finding a suitable platform for a premium hatchback.

Jaguar's new flagship, the electric-only XJ saloon, is due to be revealed this year. It will be a major landmark for JLR as the first car built on the MLA architecture, which can be configured for a traditional ICE car, a plug-in hybrid or an EV.

MLA will be used as the basis for most future JLR models, but there's a question over whether it can underpin smaller and less expensive cars, such as the eventual replacement for the Jaguar E-Pace SUV and its Land Rover sister models.

If it can, Thomson has the big advantage of the most modern underpinnings. But if it can't, it seems highly likely that JLR would have to work on a platform-sharing project with another manufacturer.

In any case, it's possible that JLR needs a premium transverse-engined architecture for the eventual replacement of the E-Pace, Land Rover Discovery Sport and Range Rover Evoque.

Adding a Jaguar compact hatchback to this line-up could bulk up the economies of scale nicely; these four models would together have the potential to contribute up to 400,000 sales annually for the company.

The most obvious cooperation for JLR would be working with BMW to use its compact front-wheel-drive UKL architecture, which underpins the current 1 Series, 2 Series Gran Coupé and Mini hatchback. JLR and BMW are already working together on powertrain technology and the current Mini is made in Britain, as are the UKL engines.

JLR's Halewood factory, which builds the transvers-eengined Discovery Sport and Evoque, doesn't have space for another model, which is why the E-Pace is made by Magna Steyr in Austria. A tie-up with BMW's front-drive programme might allow some future JLR models to be produced at BMW sites in the EU, helping both firms optimise factory usage.

Such a tie-up would stem partly from the massive costs of developing new vehicles that can meet the EU's 2025 CO2 emissions regulations, which are testing even the wealthiest of Europe's car makers.

It's still possible that Jaguar's product planners could decide to have a third crack at the global market for medium saloons – something that wouldn't require platform-sharing – by launching a single replacement for the XE and XF based on the MLA platform.

A new compact Jaguar saloon could make sense configured as an extremely aerodynamic and frugal concept with traditional Jaguar driving dynamics.

With three other EVs in the brand's future line-up and the need to keep the price competitive, it's unlikely that this new entry-level model would be sold as an EV.

We would expect such a model to instead be a plug-in hybrid, initially using three- and four-cylinder engines, weigh less than the XE (thanks to the MLA) and have exceptionally slippery styling. We would also expect a new-style interior as Thomson starts to redirect Jaguar's design language.

Jaguar's biggest challenge

Whichever of these two conceptual new models ends up arriving in showrooms, another huge hurdle is on the horizon for car makers – something that could mean any new entry-level Jaguar would need to undergo major re-engineering just two years after it was launched.

The details of the long-awaited Euro 7 emissions regulations, which are due for the 2026 model year, have started to filter through ahead of an expected official announcement next year.

Analysts have long feared that the new regulations could be expensive for manufacturers to meet, but the engineering reality might be even more dire. According to a widely quoted interview with Porsche's 911 chief, Frank-Steffen Walliser, the Euro 7 regime is expected to put a limit on the power per litre that can be developed by an engine.

Walliser has predicted this will not only mean many Euro 7 engines will have an increased number of cylinders in order to deliver sufficient power but also that they will need a much greater catalyser capacity.

Ironically, with so many cars sold in the 2025 EU market needing to be plug-in hybrids, healthy engine power is crucial to help offset the extra weight of the batteries.

The upshot is manufacturers are now likely to face a five-year programme to develop a new generation of engines and catalysing technology. This will be extremely expensive, especially after the pandemic has delivered a devastating financial blow to the industry.

The pressure to get the new model strategy right is intensified by Jaguar's sales performance in 2019, even before the pandemic. Although JLR hasn't yet released model sales figures for April 2019 to April 2020, we know that Jaguar's two best-sellers are the E-Pace and F-Pace SUVs.

However, Jaguar sold 161,600 cars globally in 2019 across six model lines, down 10% on the previous year.

Moreover, the brand was impacted very hard in the first three months of this year as the pandemic took a grip on the world economy. Understandably, business for both Land Rover and Jaguar suffered. But while Land Rover's sales fell 26.0%, Jaguar's slumped by 42.6%.

While Land Rover has the new Defender to help it pull through the next 18 months, the sudden economic downturn has arguably fallen at a bad time for Jaguar's model cycle.

But, as for all car makers, the pressure of complying with two major new EU emission regimes and navigating potentially a major global recession in the near term will be extremely difficult.