Key Features of the Link / Vipec G4 ECU
My name is Miles Hechtman and I am the lead tuner at Fine Line Imports. FLI has been a large Link dealer for the last 8 years. I have seen the evolution of the company, hardware and software. All the software engineers write in house and works directly with the in house hardware engineers in New Zealand where Link ECU / Vipec are located. If you have not looked at the Link G4 software, I do encourage you to. It is much different then the G1-G3.
To down load the PC Link software visit here (click the PC Link icon located at the top right corner),
www.linkecu.com.
The purpose of this article is to explain a few key features that Link / Vipec G4 platform offers. The G4 platform has been used by Link for 4 plus years now. There has been many new control and visual features, additional supporting applications and bugs that has been worked out which are all free of charge to down load. These are treated as firmware updates. There are a few different key features that I want to explain in detail which are very useful when mapping an engine. They are Layouts, 4D/5D Mapping and Data logging.
LAYOUTS
The first feature that I want to talk is about is the Layout. The layout is a powerful, simple tool which is the back bone of your Link G4 tuning software. The Layout is simply the visual view of how the runtime values, gauges, digital readings, tuning parameters, logging parameters (playback and real time), different control windows are set up and organized. Each window is called a Page, which can be customized to your liking. This means you can change colors, visual effects, sizes of everything! After you spend a few hours setting up your Layout, you can save it and use it in the future including firmware upgrades. This is a very powerful tool / option because it allows you to organize all your tuning parameters in a way that makes sense to you. This is also nice because it allows you to create customized Layouts for different applications (cars, boats, trucks, planes, etc.).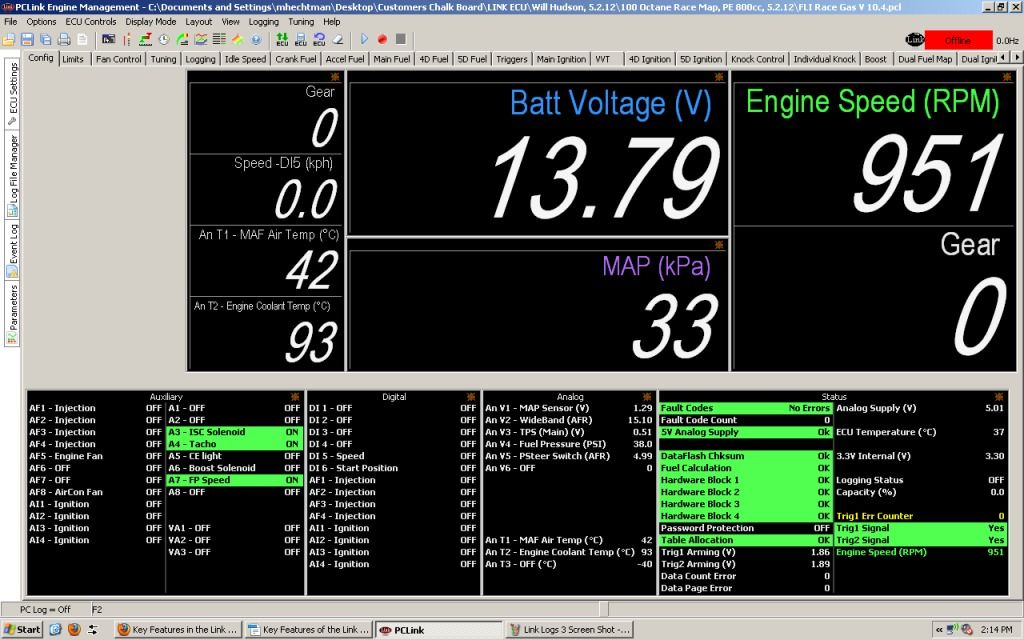 AVCS / VVT Example
Link G4 ECU's support many different VVT platforms (Subaru – JDM & USDM single / dual AVCS, Mitsubishi, Nissan, Toyota, Audi, BMW, Porsche, Honda, Ford, Suzuki, Holden, Renault, Mazda and GM and Scion).
You can not only set up your tuning parameters, but you can set up the runtime values for those parameters. Lets use the AVCS system on a 2006 Subaru STI as an example. Obviously you would have all the tuning parameters visible (main AVCS Target map), a 3d graph and other main runtime values such as coolant temp, intake air temp, throttle position, etc... You can also add an VVT runtime value menu, which can include Inlet Left Hand / Right Hand Position degrees, Error Counter, Signal, System Status for diagnosis and confirmation purposes which can be very useful.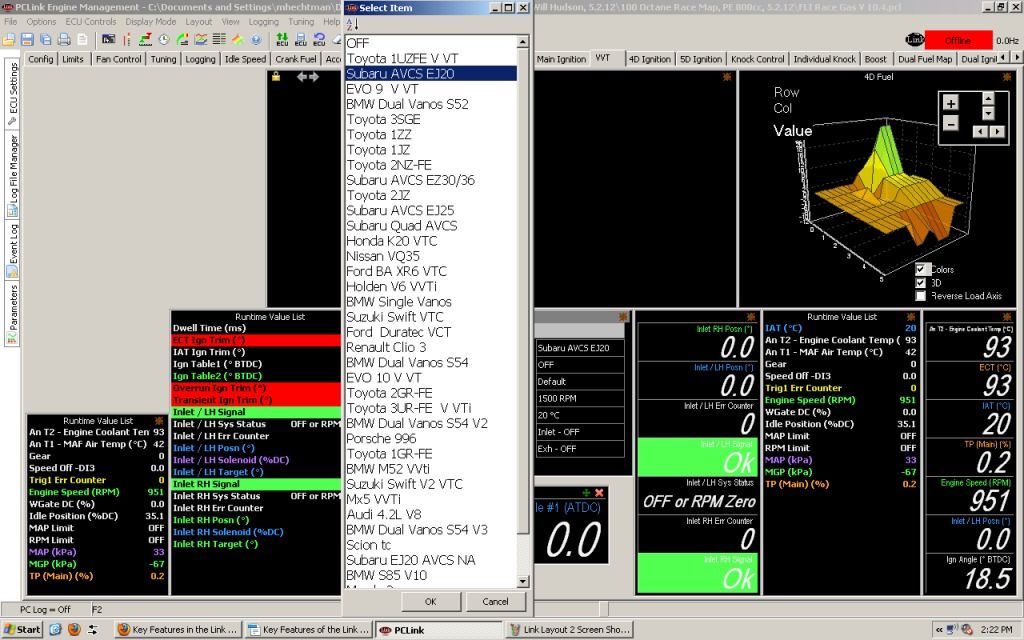 READ PART 2, SORRY I REACHED THE PICTURE LIMIT!
--
Have a great day,
Miles Hechtman
Fine Line Imports LLC
www.finelineimports.net
www.fliblog.wordpress.com
[email protected]
707.525.1536 PH
707.575.4134 FAX