Shop: Motion Lab Tuning
Dyno Type: DynoCom FX5000-AWD
Temp: 90F
Boost: 22psi
Fuel: 93OCT
Target AFR: 11:1 -> 10.8:1 @ Redline
SAE Corrections: Default Corrections
Peak HP at RPM: 335whp @ 5100 RPMs
Peak Torque at RPM: 376wtq @ 4450 RPMs
Transmission: Stock 6 speed
Gear: 5th
Engine Management: Cobb AP V2B w/ Speed density
Engine/Power Modifications:
Freshly rebuilt VF39 turbocharger
ML500+ Shortblock
Stock heads
Stock TMIC
Stock intake
Agency Power Side feed fuel rail system
Stock injectors
TGV Deletes
255LPH fuel pump
3" Turboback exhaust
This is a 2004STi that got brought to us and had a long road to success. Brought to us on a flat bed with pretty much only a bucket of bolts to sort through we were able to sort through the issues the previous shop caused while attempted to perform the project. They had assembled the motor, but we weren't sold on their workmanship. After a lengthy talk with the customer expressing our concerns he opted to take the painful step back to square 1 and have the longblock torn back down and inspected for proper assembly. This turned out to be a great decision as we found rod bolts over torqued, low quality bearings, piston rings installed incorrectly, as well as the cylinders being ~.001" out of round to name a few. Certainly not the recipe for a proper build.
After going back through the motor and rebuilding it to our ML500+ specification with ACL race bearings we started to address some of the other issues. We ended up rebuilding the cylinder head and the turbocharger while the car was down to ensure the best reliability and results possible. All said and done we had some very surprising results out of a lil ol' VF39 turbo!
Solid green lines = ~22-23PSI high boost map, dotted blue lines = Low boost wastegate pressure map.
Final HP/TQ with AFR graph: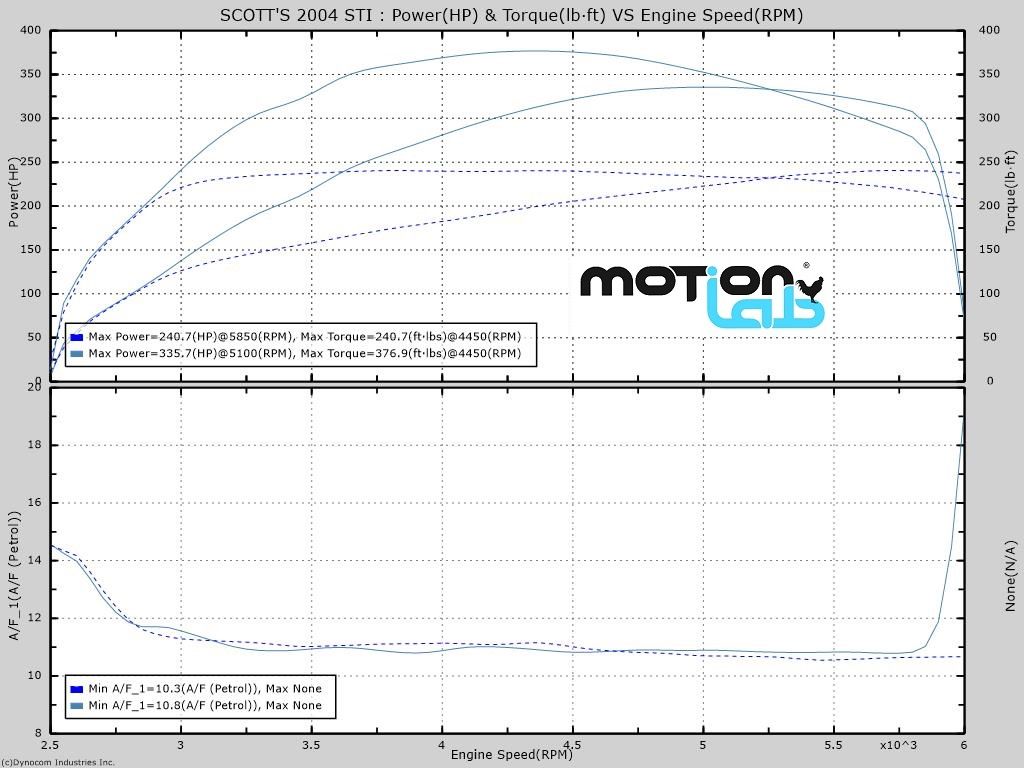 Thanks for looking!
Alex Goodwin
[email protected]
MotionLabTuning.com - Engineering Performance
Motion Lab on Instagram