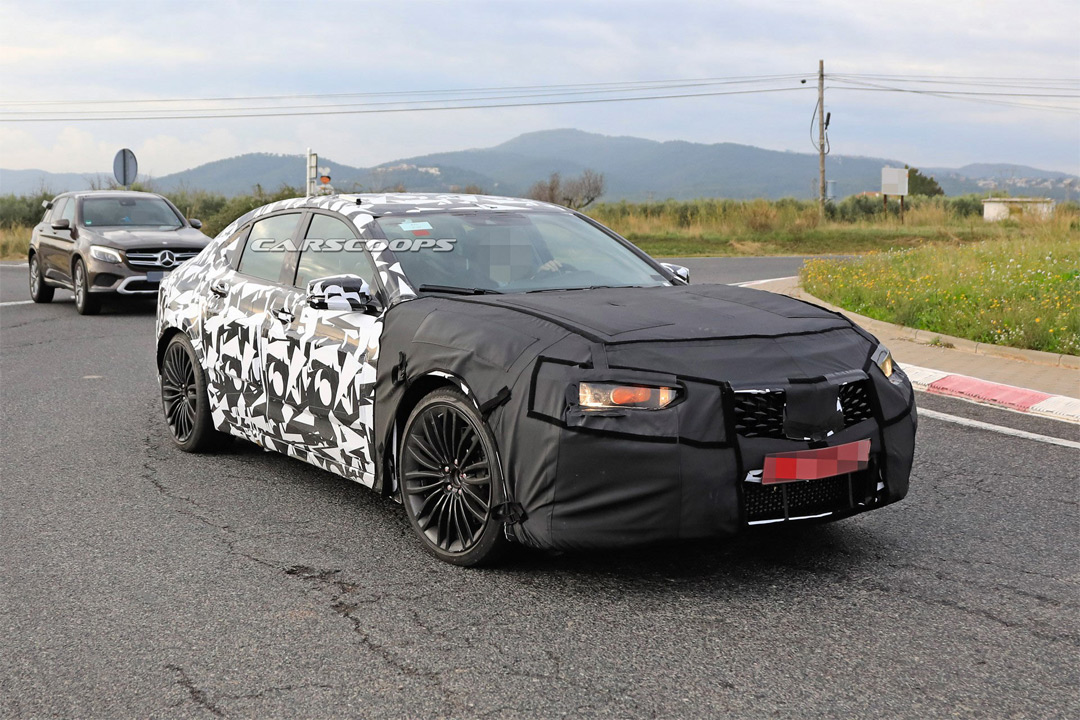 Quote:
Quote:

Back in January at the Detroit Auto Show, Acura promised to dust off the old Type-S moniker to inject some much-needed performance credibility into its current line of sedans and crossovers. At the time, the Japanese luxury brand co-announced a new turbocharged V6 engine and said it would be paired with its Super Handling All-Wheel Drive (SH-AWD). Now, a new set of spy shots has us wondering if an Acura TLX Type-S is right around the corner.

It's obvious that the TLX seen in these photos has been blessed with some performance goodies. Large-diameter wheels are shod with low-profile tires, and there's a good chance the suspension has been lowered to match. Most of the camouflage is focused on keeping the fascia and hood covered, which means there are probably some air intakes and bodywork bulges to keep hidden away from prying eyes.

Below this prototype's grille is what very well could be an intercooler, which bolsters the notion that there's a turbocharged engine sitting under the hood. And at the rear, we get a very clear look at the car's dual exhaust system.

What kind of performance should enthusiasts expect from the Acura TLX Type-S? We'll have to wait and see, but the vehicles accompanying this prototype on its testing runs might offer up some clues. An Audi S4 (354 horsepower) and a Mercedes-AMG C43 (362 hp) were along for the ride. Since that's the case, we'd expect more than 350 ponies if the TLX Type-S is going to compete on at least equal footing.





cura confirmed the return of its Type S performance badge earlier this year and now the first car to wear it in more than a decade has been spotted.

The prototype is for a new Acura TLX Type S, which is expected on the market in the second half of 2019 as a 2020 model.

And more Type S models will follow as Acura has confirmed that "multiple" cars will receive the performance treatment this time around.

The TLX as the first of the new generation of Type S models is fitting as a TL, the predecessor to the current TLX, was the last model to wear the badge. The TL Type S was last offered for 2008 and had a 3.2-liter V-6 good for 286 horsepower.

2020 Acura TLX Type S spy shots - Image via S. Baldauf/SB-Medien
2020 Acura TLX Type S spy shots - Image via S. Baldauf/SB-Medien

The TLX Type S is being benchmarked against a 354-hp Audi S4 and 362-hp Mercedes-AMG C43, so you can imagine the performance level the engineers are targeting.

All Acura is willing to say is that its new Type S models will feature a turbocharged V-6. The engine is likely derived from the 3.5-liter twin-turbocharged V-6 fitted to the NSX supercar. Given the competition Acura is targeting for the TLX Type S, peak output will probably be somewhere around the 350-hp mark. The current V-6-powered TLX already boasts 290 hp.

Looking at the prototype, we can see widened wheel arches at the rear, quad-exhaust tips, and what appears to be a vented hood. Count on the car also coming with all-wheel drive along with uprated tires, suspension and brakes. There also appears to be an aggressive body kit hidden underneath all of the camouflage gear.

Look for a debut of the TLX Type S in the first half of 2019.
http://acuraconnected.com/2018/11/21...ra-tlx-type-s/
We know Type-S will return, but we don't know when, or what model will be first to wear the badge.
Based on these photos and the fact the second-generation TLX is looming, one could assume there will be a TLX Type S as early as next year as a 2020 model.
Carscoops has posted some new photos of a camouflaged Acura prototype testing with an Audi S4 and AMG C43. The car is heavily padded, but there's no denying its an Acura grille. There's not much else given away, but we do see an intercooler and massive quad exhaust tips.
Check out the full story and gallery at carscoops.com – 2020 Acura TLX Type S Spotted Testing
Photos at carscoops
https://www.carscoops.com/2018/11/ac...rbo-v6-engine/