Scooby Guru
Member#: 73805
Join Date: Nov 2004
Mercedes-AMG C63 S
---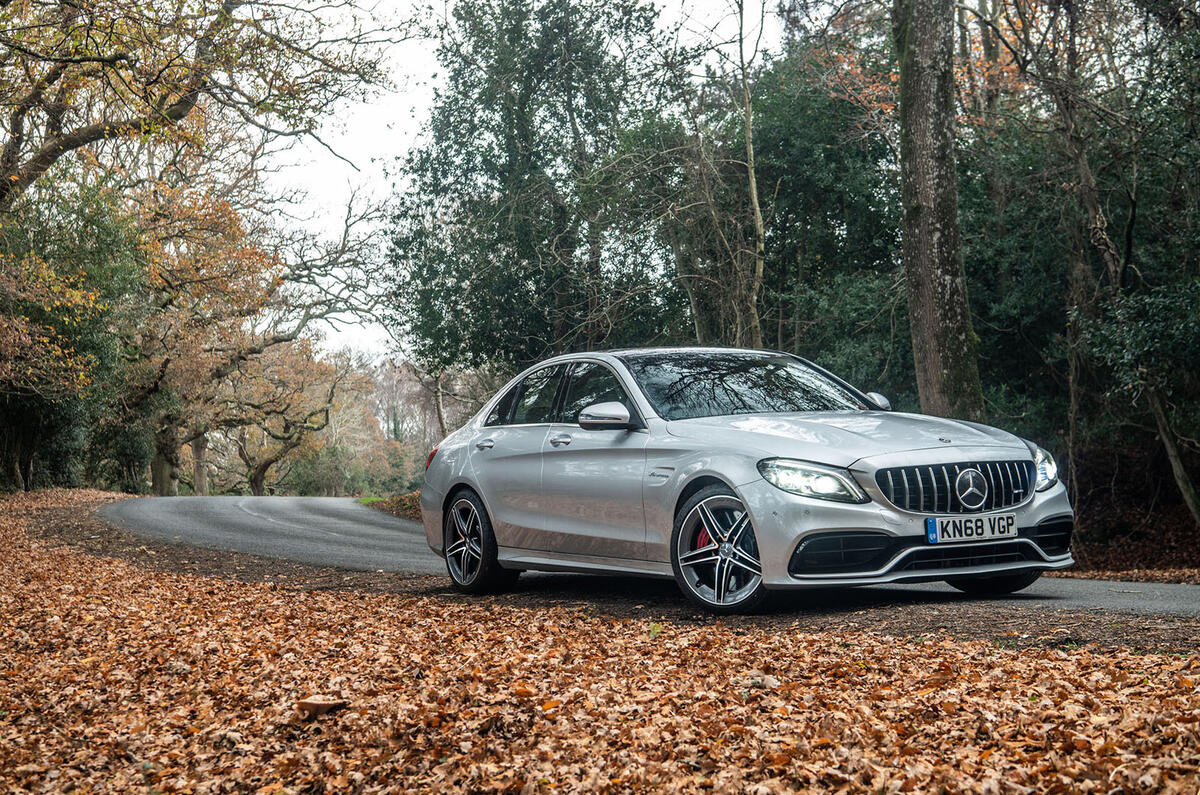 Quote:
So, what has changed? Little in terms of chassis hardware. Both the C63 and C63 S continue to use a wet-sumped 4.0-litre twin-turbocharged petrol V8 and multi-link suspension with adaptive dampers and steel springs. Both also get an e-differential previously reserved for the S, although the more expensive car now also benefits from dynamic engine mounts that are said to improve steering feel and response.

Things aren't nearly so straightforward when it comes to the software. In fact, C63 S ownership now seems a voyage of discovery where the ultimate destination is a distant realm in which you're not constantly tempted to tinker with the electronic chassis settings.

Mercedes' familiar Dynamic Select programme remains, with modes ranging from Slippery through Comfort, Sport, Sport+ and Race. These alter engine and transmission response, steering weight, the firmness of the damping and the all-important exhaust tone.




Additionally, there's an AMG Dynamics programme that optimises (or otherwise, as we shall see) traction using the car's ESP co-ordinated with a brake-based torque vectoring system. There are modes for this, too. Unambiguously named, they range from Basic through Advanced to Pro and finally Master, which programmes the differential to lock up early and aggressively.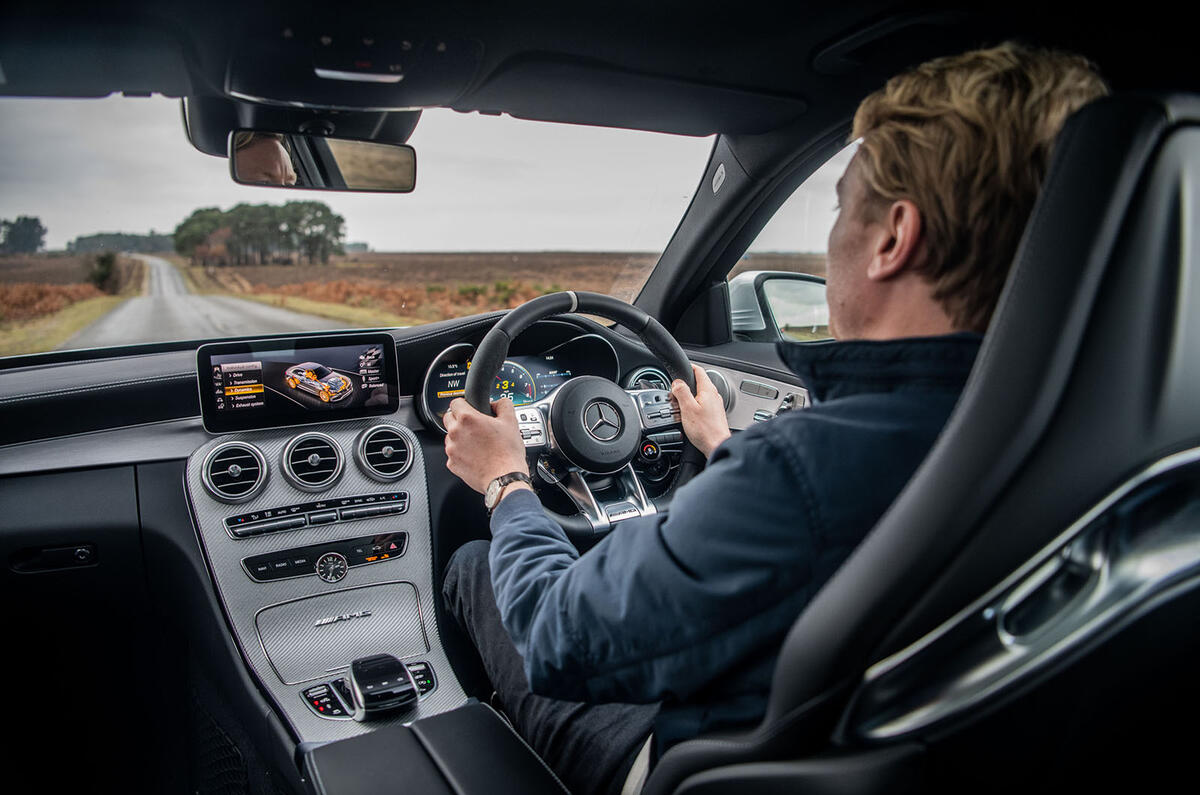 And you can't miss the new AMG Traction Control system. Gone are the days when such software was either on or off, perhaps with a third option yielding a smidgen of slip but nothing potentially calamitous. Long gone. This C63 S has a nine-stage setup borrowed from the GT R supercar, which itself uses a derivation of a system found in Mercedes' GT3 racers. Alterations are made using a digital rotary dial on the steering wheel, which looks slick but feels as though you might accidentally knock it off.

In short, a car whose colossal appeal always sat atop relatively simple pleasures now seems to be an extraordinarily complicated device.




Put some miles under the wheels and you'll also notice less evidence of the coarse ride quality that has, in the past, threatened to undermine the C63 S's status as the lavish super-saloon option. On the spectrum of body control versus refinement, the needle still rests firmly in favour of the former, as it should, but the suspension no longer labours cat's eyes, road corrugations and the like quite as stubbornly. And the body control really is excellent in light of this, being closely metered out by steel springs (no air here yet) and adaptive dampers but never crashing. This car still can't match the M3 Competition for outright composure, but then the BMW can't match the ambience of its compatriot. It was ever thus.

Maybe the fun now feels a tad more prescriptive in the Mercedes, though. Netflix subscribers addled by the selection of films at their fingertips will sympathise with C63 S owners. You question whether a fractionally better combination of the electronic settings might exist for the precise conditions at hand. You must then probe away at the limits of adhesion to ascertain the ramifications of your selection and how tame, or otherwise, the chassis is in that particular state. In fairness, with a bit of familiarity, the nine-stage traction control is a useful tool when you're sight-reading wet roads and so on, and it allows the driver to more confidently lean on a chassis that doesn't develop quite as much grip as some rivals.

Or you can deactivate the traction control entirely, set the Dynamics programme to Master, with the differential tightly wound, and live on your wits. The rear axle can break away rather decisively in this setting, but you wouldn't call it snappy. Working a chassis this balanced with a glorious surfeit of torque is heaven, in fact. The process just isn't as quite as intuitive as in the similarly hip-swinging Giulia QV.

A big hardware change we haven't yet addressed is the transmission. Where the seven speeds of a torque converter once existed, now there are nine with a wet start-up clutch. Despite this, the Speedshift unit is actually the lighter 'box and – hallelujah – also programmed to upshift only on command when in manual mode.

It is a bit of a mixed bag, though. Neither is it as quick as the dual-clutchers of the class, nor as unflappable when you're attacking a road. Left alone, the shifts slip through nicely enough (but perhaps too frequently) and are especially slick in Comfort mode. However, in manual mode, there's just enough hesitation between paddle-pull and that fresh ratio taking effect for it to stifle the driving experience a touch. The imprecision frustrates.

Furthermore, this gearbox will simply throw its hands in the air should you dip so much as a toe into the soft limiter before initiating an upshift. By the time it finally comes to its senses the chassis' centre of gravity has careened forward and that fresh the slug of torque then clobbers you back again.

In truth, the 'box is a metaphor way the C63 S conducts itself in broader terms, though it feels unreasonable to expect scalpe-sharp precision from what, in spirit, is a posh muscle car. Its talents lie elsewhere. We shouldn't bemoan the fact the whipcrack agility of the Giulia QV and the perfectly geared off-centre steering precision of the M3 Competition are absent.

And where those cars double down near the limits of adhesion, in the C63 S the lines of communication begin to run dry. It's best to enjoy its superb balance and the consequent ability to generate either tremendous stability and predictable oversteer on a whim at seven or eight tenths.