This is just a pending thing... we have one interested buyer for the car, but we wanted to post this in-case for some reason it wouldnt happen..
ALSO- PLEASE NOTE: this car is being photoshot before it is sold to fulfill all promotional agreements.... should be shot within 30 days for a major magazine publication.
This is our 2005 Silver Sti with 10,000 miles on it.... 1650 miles on the built motor....
here is the story and break down..
we sent a motor to axis for cp pistons and a once over... and UPS destroyed the motor in shipping... They ended up buying us a brand new shortblock and two new heads..... so thats how she stands..
motor is as follows:
Axis CP pistons
ARP head studs, cometic head gaskets
heads machined to tolerance (per axis)
Spec c valves
Ultimate Racing GT35R turbo kit
.63 hotside (true gt style)
Heatwrapped
PE 850cc injectors
Stock TMIC (as we havent pushed the motor, it just completed break-in at 1000 miles, and is on it's 6th oil change hee he)
small cbrd oil cooler
SPEC stage 3+ clutch
Greddy EVO 2 catback with kartboy hangers
Chassis is as follows:
355mm Stoptech CBRD brake package w/gold calipers and braided lines
18x8" OZ superleggara's with 235/45-18 Kumho Ecsta ASX's (75% tread, no damage)
Tein Springs on stock Shocks
Subie Sport front and rear sway bars with heavy duty rear sway bar mounts
Exterior:
WRX rear wing
Cusco front spoiler with scrub plates
35% llumar tint
Badgeless grille
Interior:
RCE Alcantara steering wheel
Kartboy Shiftknob
Kartboy shortshift and bushings (through drivetrain also)
Omori 45mm Boost and EGT on dash in oem pod w/dual temp ic probe (functional)
Stock Stereo with Polk Speakers
Optional Parts:
19x8.5" Rays Volk Te37 w/245/35-19 bridgestone S-03 tires 60% tread ($2000.00 w/car purchase)
WRX hood scoop, and reverse hood scoop (both painted)
TurboXS UTEC or Cobb AP (ask for details)
Asking price:
27,000.00
29,000.00 with Rays wheels and all extras
here are some pics...
(with 19's)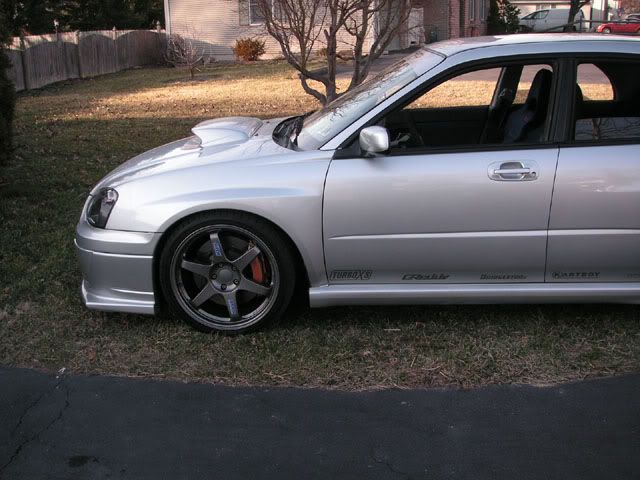 (with 19's)