My Koni/Ground Control suspension is for sale.
Here's the setup: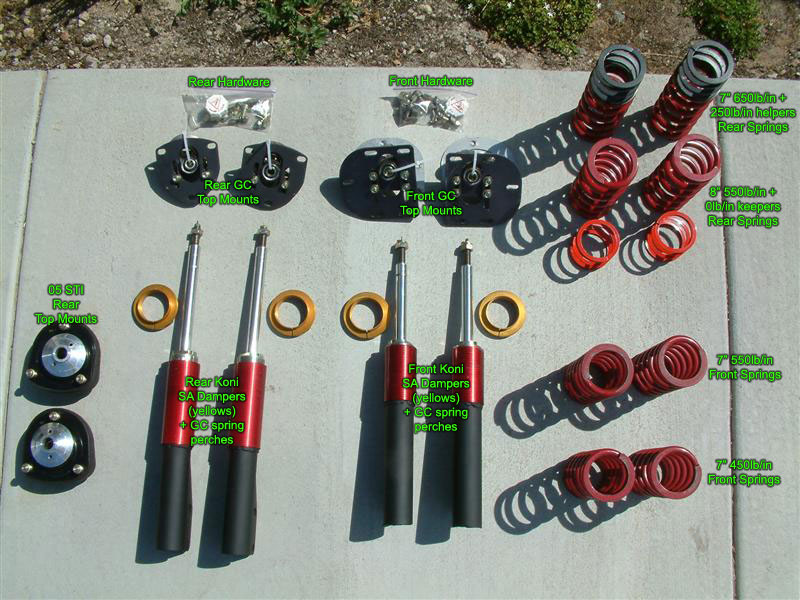 More specifically: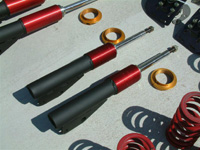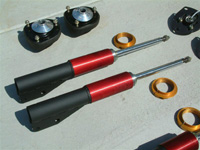 Koni single adjustable (rebound) short-throw dampers, in custom lower brackets (stainless steel)
These are Koni SA inserts (retail about $700 for a set) in custom fabricated stainless steel lower brackets. The single adjustment is rebound, and there are no "clicks", as the adjustment knob turns smoothly, allowing 3 full turns of adjustment. You can use the large adjustment knob to easily count partial turns. Dampers are not inverted, so the adjustment is on the top of the strut and easy to get to.
Ground Control adjustable ride-height/pre-load spring perches
Perches allow plenty of ride height adjustment. Height adjustment is not seperate from pre-load, which is normal on a race setup. The perches sell for $400 new.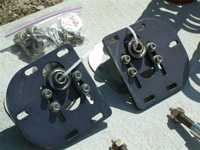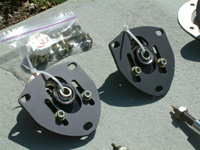 Ground Control caster/camber pillow-ball top mounts front and rear
Top mounts are pillow-ball type, with all the appropriate bushings for the large Koni dampers. Front top mounts can be "over-mounted" allowing the car to be lowered an additional 1" in the front w/o reducing suspension travel. You will need to drill two additional holes per top mount to install these in the over-mount position. Front top mounts are caster/camber adjustable, with roller bearings on the spring top. Rear top mounts are camber adjustable, though they are slotted in the caster direction to ease installation, with solid brass bushings on the spring tops. The top mounts sell for about $600 for the set of 4 new.
I've also got a set of OEM '05 STi rear top mounts for those of you who are in a class that doesn't allow an additional camber adjustable in the rear.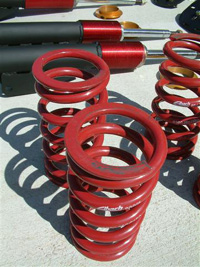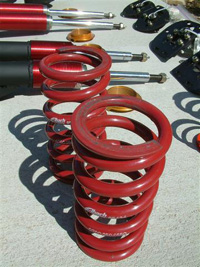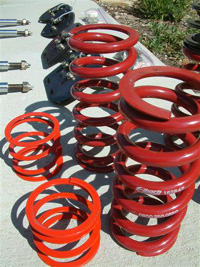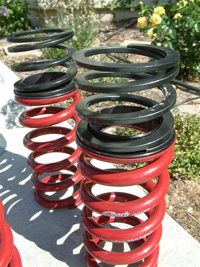 4 sets of Eibach springs, 2 sets of Eibach helper springs
I've got a fairly large selection of springs for this setup.
For the front I've got 450 lb/in and 550 lb/in springs, both 7" long.
For the rears I've got 7" long 650 lb/in springs with 250 lb/in helper springs, as well as 8" long 550 lb/in springs with some keeper springs that have a near-zero rate (all they do is keep things aligned if you fully extend the rear suspension, which can happen at autocross in hard corners w/ a stiff rear-swaybar).
For someone that's not interested in the complete set of springs, I'm willing to sell just one setup and keep the rest for my own use. I'd suggest either 450f/550r for a softer ride, 550f/650r for a stiffer ride, or 550f/550r for a bit less oversteer. I would not suggest a 450f/650r setup unless you're running a stiff front swaybar and no rear swaybar (I tried it and it's quite the handfull to drive!). Springs sell for around $120/pair for the mains, and $75/pair for the helpers.
A little more about the suspension:
This kit was designed for a GC Coupe racecar (specifically the S-Squared shop car back before they joined w/ Alfa's & Subarus). With the correct rear top mounts (I don't believe the ones included in this kit will work with a <'02 Impreza) these will bolt right up. They had a single event on the race car then the car sat for a year. I purchased them to replace my JICs when my WRX stopped being my daily-driver and became my track car. I drove on them for about 5,000 miles, with probably about 15-20 hours of autocross and track time trials time during that 5k.
Even though the suspension was originally for a GC, they were great on my WRX, but I did play around with with increasing the spring rates to handle the heavier car. As it's setup now, I'd suggest this kit for any '02-'05 Impreza (not sure about the '06's) or for an '04 STi.
Please note, this is a *race* suspension. I would not recommend it for anyone's daily driver. At one point qksubi said my car rode like "a box of hammers" due to the stiffness and noiseyness of this setup. (Do note though that much of the noise I had was due to some missing bushings in the front top mounts that I've since purchased and installed, so it doesn't clunk like it used to).
The bad news:
The reason I'm selling these is because the rear struts are blown (no rebound damping). I think they need a gas recharge. After they blew, I didn't have time between events to have them rebuilt, and since I really wanted to move to double adjustables, I went to some Tein Super Race coilovers. I will be sending the rear dampers out to be rebuilt by Ground Control before selling them. If someone is interested in them as-is, I will be willing to sell 'em at a discount.
I believe the reason the rears blew out was due to over-use of my impact wrench on the top nuts. I was told the easiest way to tighten the top nut was to use the impact, and I've since learned that some struts will be damaged by the repeated spinning of the shaft. Since I swapped rear springs often, I think I probably rotated the strut internals too many times causing a leak or misaligning the bits in there that control rebound. Oops! However, there was never any external oil leakage from the strut.
How Much?
The price for parts alone in this kit, not including the fabrication of the lowers or the assembly of the suspension is about $2300. I'm looking to get $1500 for the kit (plus actual shipping costs for non-locals, I live in Reno NV 89521, box will probably weigh around 50 lbs). If you want these as-is (and do the rebuild yourself), or if you want the setup without the complete set of springs, PM me an offer, and I'll be happy to work something out with you!
More pictures
here
.