The "Stealth" Cold Air Intake Thread: Part I
Now i've been talking about this for awhile, but i'm finally finalizing my DIY "Stealth" Intake for my '95 L with a 2000 EJ25 swap. This intake idea is basically for MAP cars only...
The general idea:
Use an older MAF based intake which takes air from the fender Cold Air Intake style in order to keep the intake looking as stealthy as possible, perhaps even pass SMOG checks and definatly not get a fix it ticket for getting your hood poped, while still providing some power and noise improvements to the car. IE its a worry-free intake
The first itteration of this intake when I got it is here:
As you can see, its just a stock intake I threw on the car from a MAF 1.8. Everything bolts in fine, and actually makes easier access to certain engine areas like the clutch fork/cylinder and throttle areas.
In that picture though, you can see the unplug MAF and everyone always says "why is your MAF unpluged?" well, I did eventually turn it around...
The major benefits of this setup:
1) Easy to find CHEAP/stock parts
2) Able to use a MAF adapter with a cone filter at will (takes ~10 minutes to install)
3) Not to noisy or flashy, but still sounds good
4) Restriction-free intake track
5) Quick cooling plastic construction!!! (stock stuff stays pretty cool actually)
6) Airbox mods for WRX/STI's work here, including K+N or even the STI Air Filter designed for WRX's
What was used:
I used a intake from a 93-96 Impreza. There are actually two versions of the pipe that runs from the MAF section to the throttle body, one has two extra "torque tubes" on it, the other is basically just a straight tube. (there may be a power/noise difference between the two, but I'm not sure).
If you want to keep a torque box when doing this mod, you can ALSO use the 97-99 torque box from the MAF cars, however it is more restrictive (60mm Inner Diameter as opposed to the 65 Inner Diameter of the non-torque-box intake tubes).
If you are using the MAF section, I recommend removing the sensor to elminate the restriction (dremmel required) or installing a MAF replacement adapter like I have.
I also used a K+N filter, same one from the WRX, but the STI air filter as I mentioned which people are raving about is also usable with this mod.
I also found a small brass velocity stack on a 90-94 legacy intake that work perfect inside the airbox.
You will also need new piping from the intake to the heads for this mod for the oil recirculation.
Here are some pics of what it looks like on the inside and some of the pieces used:
Top Left - K+N filter in place
Top right - The "velocity stack" from the old legacy intake
Bottom left - the MAF adapter (see next section)
Bottom right - white plastic directional thingy connected to the airbox, rubber piece removed
MAF Replacement adapter:
When I got this intake, I really didnt want to use that stock MAF section... However, MAF adapters dont work to replace the MAF section and have too small of an internal diameter for that anyway, and people usually want a crap load of money for MAF's, so I searched for a solution.
I could have something custom made, but thats expensive. However, I searched for pics and found a pic of exactly what I wanted... Its a piece that replaces the MAF but is basically the same as a MAF adapter in terms of construction. I found it only one place, and that was on the website from someone named "Yugo Bernie". I ended up contacting him, and it turned out this intake adapter was from some 300zx turbo kit and he still had it availible! So I purchased it and just installed it today: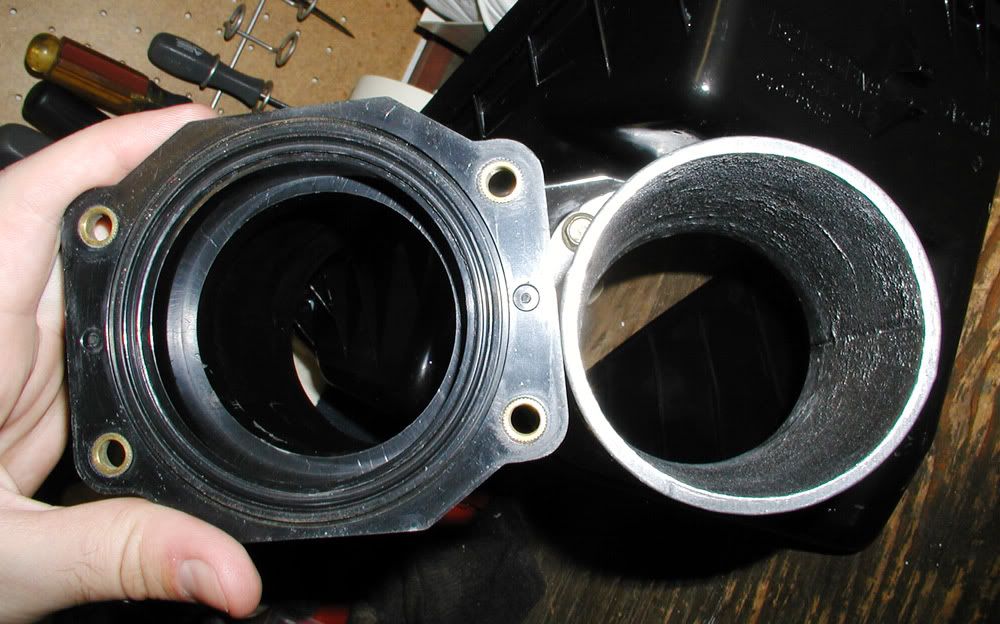 Why is it better than a MAF section? Well, its internal diameter is 74mm, while the MAF goes all the way down to 62mm. Is it worth spending money on? No idea, but I got it and its a nice piece of machine work for sure
I have no idea if you can purchase them from somewhere though...
Measurements:
One of the main ideas behind this intake is to eliminate restrictions using stock parts. I found that the old 1.8 intake section from the MAF to the throttle body seemed close to the same diameter of the throttle body throughout the intake stream and it is.
The stock throttle body has a 70mm outer diameter, and a 65mm inner diameter.
The stock 1.8 intake has its smallest OD of 72mm, and its ID is 65mm going into the throttle. Closer to the MAF, its OD is 78mm and ID is about 70mm.
The stock MAF section has a minimum OD of 67mm, and minimum ID of 62mm... So it is a restriction, and the MAF replacement adapter fixes this. The ID of the MAF replacement is 74mm with an OD of 80mm.
And finally, the airbox hole that goes to the fender... I removed the rubber and there isnt a silencer in the fender well. The ID of that hole is 80mm.
So the intake consistantly goes from 80mm down to the throttle size of 65mm internally... Whether or not this does anything power wise, no idea, but I like the idea of having a free flowing intake with no restrictions.
(however, at this time the hole going into the fender is smaller than the hole on the airbox, and will need to be resised for part 2).
Picture of everything installed up to this point:
Power gains:
Unknown, but the top end is better than stock. Low-end torque may be lost as result of this mod, but personally I have a lightweight flywheel and top end is more what I'm looking for.
I might have several intake setups dyno'ed at some point, but I dont have the money for that now.
Sound:
Ill post a video clip of it in part 2 when its all finished.
Part 2:
Part 2 will include a tube going from the airbox to a foglight hole on the v4 bumper I just ordered. I will also paint the MAF adapter piece I have to make it look more stock like...
Let me know your thoughts, and ill have part 2 up in a few weeks