Brand new from TurboXS, this handsome shift knob looks good, and won't break the bank. I will have a better, larger pic soon.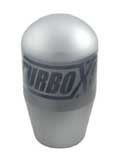 TurboXS shift knob -- click me!
Click the link for pricing and ordering. Oh, and truthfully speaking, the shift knob will NOT get you chicks. You're on your own on that. But, hey, it probably won't scare anyone off, either. I'd say it's mostly neutral on the chick front.
--Dan
Mach V
FastWRX.com