OK this is my car:
history:
I bought this car brand new from Bruce Titus in 2002
It was involved in a small accident in 2002 where I was hit in the front fender by a saturn - the fender and the headlight had to be replaced, the front bumper repainted.
It has:
Blitz nur spec axle back exhaust installed by Tune Plus in Bellevue
Blitz stainless intake installed by Tune Plus in Bellevue
Tein Stech lowering springs installed by Tune Plus in Bellevue
Brembo generic slotted and dimpled front rotors (rears and dot 4 brake fluid comes with the car, but not installed)
18x7.5 rota subzero's in gunmetal with 225/40/18 falken azenis
prodrive front lip from Zivan's car
aftermaket head unit installed by magnolia
Exedy street spec clutch installed by world one
JDM headlights installed by Tune Plus in Bellevue
Clear side markers by me
Color Matched sideskirts done by Precision in Bellevue.
Never been smoked in.
It needs:
A little tlc -
some minor scrapes on the front bumper and lip
On the front passenger side the bumper has disconnected from the car in two places as seen below: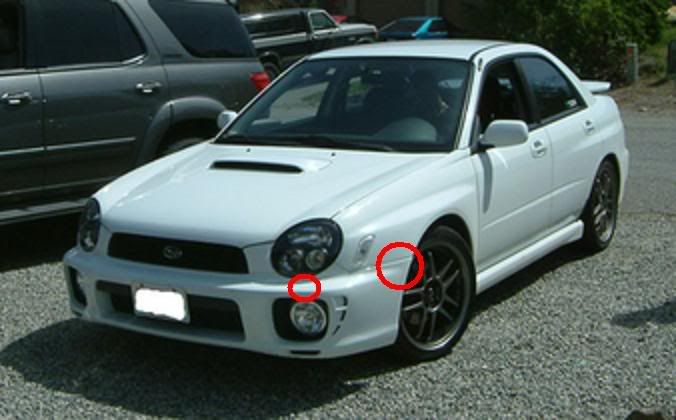 just imaging it on the other side - this happend at Wade's gun shop...I pulled too far forward and got hung up on the stop and it popped the grommets
My car does burn about a quart of oil every 3k miles.
Has the optional Subaru Extended Warranty and road side service coverage up to 85k miles.
It costs:
$12k firm
Why I'm selling it:
Well, my interests have changed and I'm not in love with my subaru anymore and I found a car I'd like to have instead.
I need to sell this very soon so if any one is interested in my wrx please let me know.