Prosport gauges have been a very popular seller for us. They are LED-illuminated, and have smoked faces like the Defi BF gauges. They also do a little "opening ceremony" dance at startup like the Defi gauges, and like the stock STi gauges.
Night pic:
Until now, the BOOST gauge did not do that opening ceremony. But now we present the ELECTRIC boost gauge which DOES have the opening ceremony!
And it's still far cheaper than those mega-buck gauges.
Here's a vid -- caution, it's 13MB.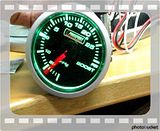 They come in both green and red back-lit versions. Each also has the option to illuminate in hyper-white.
Prosport Electric Boost Gauge -- click me!
Click the link for more info, pricing, and ordering.
UPDATE: Use coupon code
"prosport"
(no quotes) for a 10% discount when you buy THREE OR MORE Prosport gauges in one order!
--Dan
Mach V
FastWRX.com