This is just a feeler right now, but don't be afraid to send me offers or ask questions. I am looking to get a new WRX, Legacy GT, or Forester XT. No trades please.
2004 PSM Wrx Wagon, located in Southeastern Wisconsin.
51,xxx miles.
2nd owner. Never Smoked In. Always garaged. Autocrossed a few times.
There's a dent on the passenger side fender, you can see it in the 2nd picture.
It has the Auto-Dim Mirror.
Oil has been changed every 3,000 to 4,000 miles. I used to run Mobil1 5w-30, but currently use Pennzoil Platinum 5w-30.
Fuel Filter, PCV Valve, and Spark Plugs recently changed.
$18,000
with all modifications, if you don't want some, we can work from there.
Modifications:
Interior/Audio:
Alpine 9825 Head Unit
Diamond Audio Hex Component (Front) and Oem Rear Speakers
Alpine F250 Amplifier
Kartboy Short Throw Shifter
SubieGal 60mm Gauge Pod with Defi 60mm Boost Gauge
Exterior:
Saab 9-2x Roof Rail Deletes
PSM Sti Foglight Covers(foglights with rockblocker yellow overlays are still on under the covers)
Blacked-out Headlights
Sti Hoodscoop
Painted Sideskirts
Pink Tow-hook
Suspension/Brakes:
Sti Wagon Pink Springs
Cusco Rear Sway Bar
Whiteline Front Wagon Sway Bar
Whiteline Steering Rack Bushings
Hawk HPS Pads (about 8k miles on them)
Painted OEM Wheels with 205/55/16 Yokohame Avid V4S tires with about 10k miles on them.
Performance:
Samco Y-Pipe
Ported/Polished/Ceramic Coated OEM Header
Cobb Accessport Stage 2 (15k miles)
OEM Sti Uppipe
TurboXS Bellmouth Downpipe
TurboXS High-Flow Cat Pipe
TurboXS Midpipe
Bosal 3" Axleback
This is how the car looks curently(1st picture), with bronze colored wheels: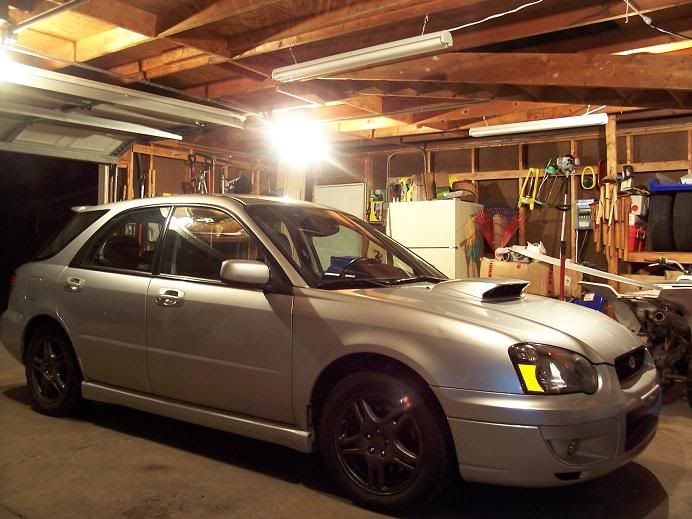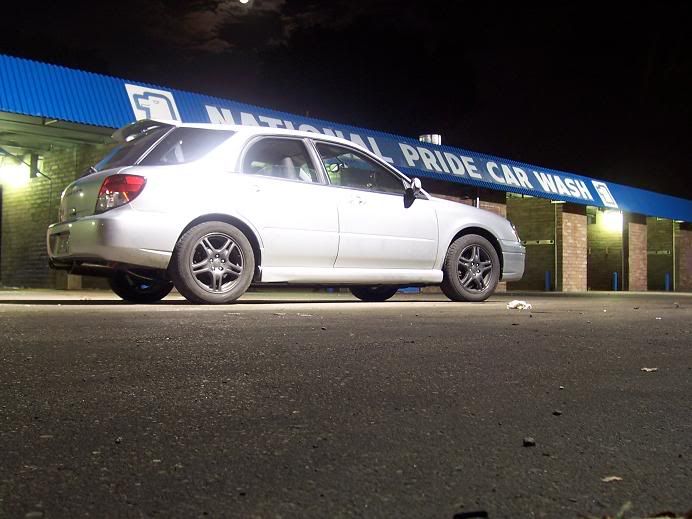 Thats all I can remember for right now. If I think of anything else I will post it.
And again, if you have any questions, feel free to PM me or get a hold of me on AIM.