I am seeing if i have any interest out there for my car. I'm not sure if i'll sell it yet, but gaugeing interest in a newer car! I do have mods done to the car, to my standards my exterior is pretty much done. Subaru green(metallic) shiny, 4eat.
-mileage-> 186,xxx
-turbo'd->6k miles no problems
-turbo size-> i believe its a garrett 23(not a 100% sure)
Exterior:
97-99' Front bumper
97-99' Headlights and foglights
xenon bulbs in both
97-99' grill with mesh behind w/ gold emblem
97-99' hood with hoodscoop
JDM side markers(amber)
JDM tail lights
OBX exhauset
Eibach coilovers
Xenon license plate bulbs
Painted side skirts as well as rear skirt (matching to car)
Tinted windows done by Custom window tinting here in town (front 50%/ back 35%/Eyebrow on front windsheild)
Slotted rotors all around
Fairly new brake pads
Interior
00-01 RS seats
Pioneer cd unit
Kicker 12" L7 in a vented box with a 1f capacitor
Lightning audio 6 1/4's i believe in front doors
Stock tweeters
White face gauges
Wood grain bezal around raido
Fiber glassed in boost gauge
SAFC-II
Engine
Oil cooled turbo kit installed
I have had the car for 4+ years and only used it two winters other wise sits in garage. There are a few dings here and there since it is a 11 year old car. Brand new tires on OEM rims, the rims were painted gold. There are two rust spots, one on each quarter panel about the size of a nickel. I have taken good care of it, under my ownership. Still needs to be tuned, but runs strong. Phatsuby helped me tune somewhat but still need to hook up the wideband to it.
The head gasket,tb,waterpump,sparkplugs,etc done at 142k. Change oil every 3k with mobile one. I do have stock springs and other parts as well that could go as well!
I won't part it out so don't ask!!
If no interest i will keep it and keep putting money into it to make it my own sleeper!
Pm me if your interested and will get back to you ASAP. I will try putting up pictures sometime this week. Just seeing if anyone has interest and if so could possibly let it go! Thanks
Here is my cardomain page:
http://www.cardomain.com/ride/383314/4
(not up to date)
Josh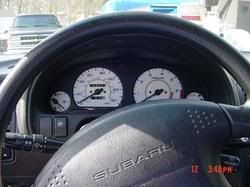 this is kinda dark(but there are some pics for now will get better ones)