Low-speed crash tests show most mid-size cars end up with hefty repair bills, according to Insurance Institute for Highway Safety.
POSTED: 11:01 a.m. EST, March 1, 2007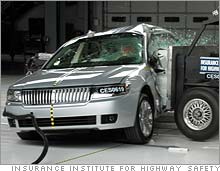 NEW YORK (CNNMoney.com) -- A new series of low-speed crash tests shows that fender benders can be wallet busters.
The Insurance Institute for Highway Safety has released cost estimates for the kind of accident that can happen in a parking lot or commuter traffic, when cars are traveling 6 miles per hour.
It found only three midsize cars - the Mitsubishi Galant, Toyota Camry, and Mazda 6 - came away with damage of $1,500 or less from each of the four crash tests that checked for damage from front, rear, front corner and rear corner collisions. The Institute tested 17 midsize cars in the low-speed test.
Meanwhile, four vehicles saw damage of $4,000 or more from a low-speed front-end collision.
The Volkswagen Passat had the most expensive repair bill at $4,594, followed by the Pontiac G6 from General Motors, which cost $4,588 to fix.
Next was the Nissan Maxima with $4,535 in damage, and the Hyundai Sonata, which ended up with a $4,312 repair bill.
The Institute is a nonprofit group funded by the nation's insurers which aims to reduce the losses - deaths, injuries, and property damage - from vehicle accidents.
It was critical of changes in the federal government's low-speed crash standards, which it said were weakened in 1982 during the Reagan administration. It said the older vehicles performed much better.
To demonstrate, it included a 1981 Escort from Ford Motor in the test, and it had by far the lowest repair costs. The front corner and rear corner crashes produced no damage, and the cost to repair the front accident was only $86, while the rear collision repair bill came to $383.