Some may have seen or have the Tire Tail for hauling their rims & tires.
I have heard the Tire Tail jiggles a bit on the highway.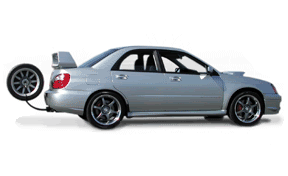 http://www.izoomgraphics.com/index.p...products_id=10
Some like the small trailers available at Menards or Harbor Freight (I have the 4'x8' one my self).
If you know some one or have a welder & feel competent, the material will total up to $70-80
I took a very short receiver tongue with a 2" rise & ground off the powder coat.
1 - 2" x 3/16" x 4' angle
2 - 1.5" x 1/8" x 4' angle
1 - 1.5" x 3/16 x 3' angle
1 - 1.5" x 3/16 x 3' flat
1 - 1" x 1/8" x 4' angle
8 - 1.5" steel rings
The interior dimension of the frame is 48" x 19.5"
Platform Weight - 28#
Bottom of tires off ground - 9"
The pics here have a set of 225's on them.
I added three LED marker lights to the rear wired in for L,R, & Tail operation
As shown in the overlay pic the centerline of the weight is about what the Tire Tail appears to be.
The Tire Tail puts the tires on a longer arm higher up as well.