Subiefest Greddy+TiTek Special!!
Get your turboback system today for your WRX/STi!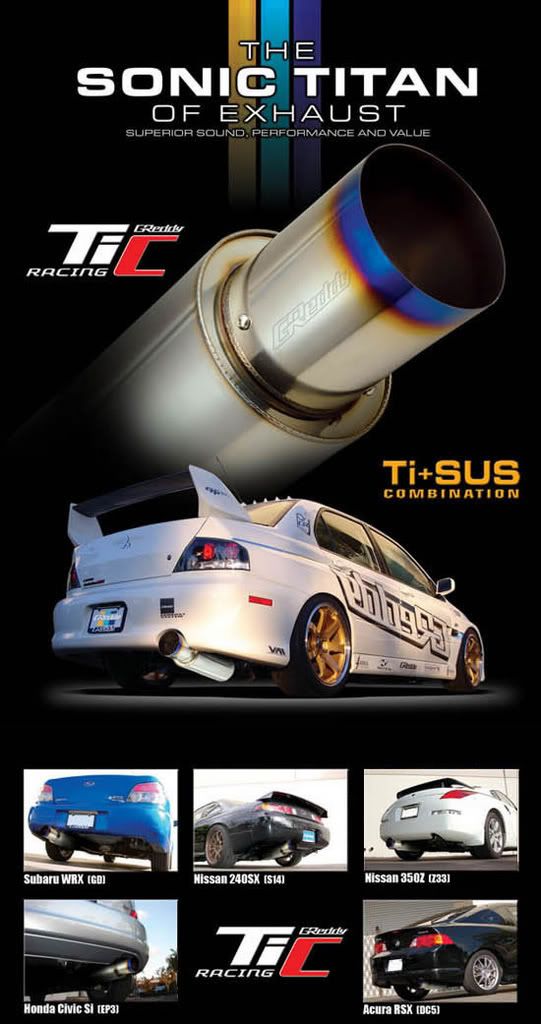 DESCRIPTION:
GReddy Racing Ti-C Cat-back Exhausts combine the design, looks and flow of our Full Racing Titanium systems with the durability, deep sound, value and large application list of our other Stainless Steel street systems. This fusion of aggressive styling and practical construction, makes this the logical choice for both Race and Street Enthusiasts. It improves high and mid-range performance while still allowing for suitable sound levels when used with the included tuned Tri-mounted Silencer. Made completely in Japan.
RACING TI-C SPECS:
Inlet Size: 80mm

Canister /Tip Size: 160mm/115mm
Material: SUS304 Stainless Steel w/ Titanium Burnt Tip
Sound Level: 94 dB
Advanced Robotic TIG welding
Silencer Included.
-------------------------------------------------------
Ordering is as easy as 1-2-3. These are the packages we are offering in this limited time turboback special for the
NEW GREDDY TI-C EXHAUSTS AND TITEK DOWNPIPES
just pick one!!
Package 1A. Greddy Ti-C Exhaust + TiTek Catless DP - $750 Shipped!!



Package 1B. Greddy Ti-C Exhaust + TiTek Catted DP - $900 Shipped!!


Package 2A. Greddy Ti-C Exhaust + TiTek Catless DP + TiTek Flex Uppipe - $900 Shipped!!


Package 2B. Greddy Ti-C Exhaust + TiTek Catted DP + TiTek Flex Uppipe - $1,050 Shipped!!



Cobb AccessPort Version 2 $695 shipped
The AccessPORT's features include:
» On-the-fly map switching
» Monitor vehicle sensor data and display in analog or digital format
» Vibrant color graphic display with First-Ever full 260,000 color OLED, high-resolution screen
» Read/Clear engine trouble codes
» Preloaded with performance, economy and convenience maps
» Update via the Internet
» Measure 0-60 and ¼ mile times
» Adjustable on-screen Shift Light functionality
» Estimates horsepower and torque
» Displays current and averaged fuel economy
» Drag race simulation with reaction time and "time slip" data
» Built in on-screen help mode function
» Multi-Language support
» RoHS compliant (Lead Free design)
» Custom performance tuning for your specific vehicle and modifications as provided by an authorized AccessPORT ProTUNER™ center, or upgrade to the StreetTUNER™ software package for do-it-yourself tuning
Note: For use on North American ECU's only!

-------------------------------------------------------
Group Buy has room for up to 10 people, so please just let us know which package you would be interested in and we can take it from there. Special ends two weeks after Subie Fest on April 20th.
1.
2.
3.
4.
5.
6.
7.
8.
9.
10.
More information can be found of all above items here:
Greddy Ti-C Exhaust System
TiTek Innovations Downpipe and Uppipe
Cobb Tuning AccessPort Version 2
Thanks,
Greg
Telephone: (510) 264-9049