The weekend of the 27-29th is not only advanced driving skills weekend, it has Car show, Crab festival, Saturday night go kart races, Downtown city autocross, whats not to like?
Make hotel reservations Early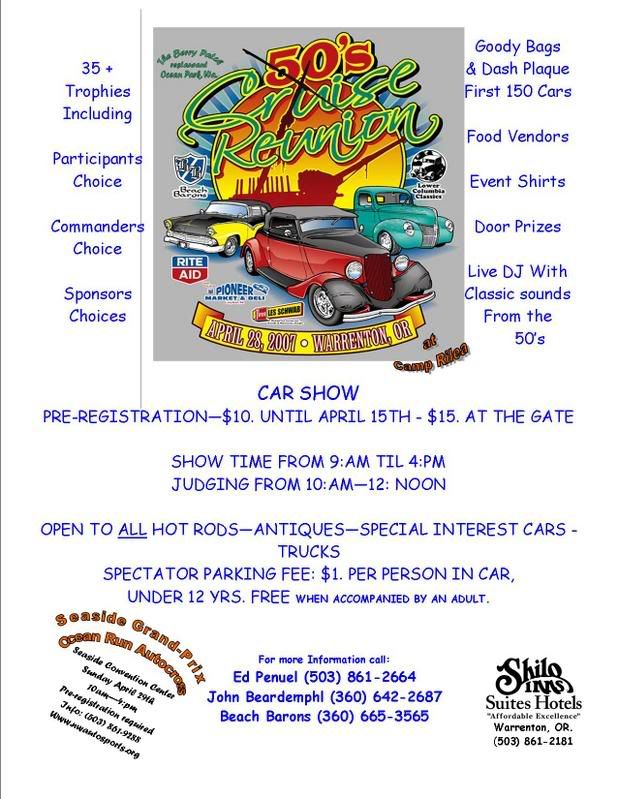 Advanced Driver Training for Teens and Young Adults!!!
Auto crashes KILL more teens than guns and drugs
What? This is an opportunity for young drivers to receive car control training from experienced competition drivers from around the Pacific Northwest. During this three day class, students will first learn about driving safety and car control. Then the students will be put behind the wheel and experience emergency situations (such as Skid Control, How to manage brakes, and Emergency lane changes). On the last day, students are welcome to participate in an autocross (an obstacle course competition).
Where & When? On Friday night the 27th of April, class will be held in the Seaside High School Library. On Saturday, the 28th of April, behind the wheel driving will take place at the Deep River Course in Nacelle WA Sunday, the SEASIDE GRAND PRIX autocross competition will be held in Downtown Seaside, at the convention Center.
Who? The first thirty students who reply by applications will be accepted. In order to receive and application you will need to contact Emalee Newby by phone at 503-861-9288, email
[email protected]
or Seaside High School.
Cost? ONLY 15Bucks!!!
This Pacifica project is led by Alicia Newby, Xandra Jobe, and Zach Lockwood
Also volunteering Casey Pappas and Katie Shade
Trust US, You'll Never Have More fun Driving your car!!
During the behind the wheel driving experience, The Lower Columbia Classics will be holding their annual Car show @ Camp Rilea National Guard base. Non students or parents can come and enjoy cool cars, music and vendors
Presented by Northwest Autosports Association
www.nwautosports.org
Sponsored by