STi Rear Strut Bar (Used)
STI is Subaru's devoted aftermarket product line. Made with the highest quality and best fit, this strut brace is a must for your ultimate handling car. The STI Aluminum strut brace is constructed of a stiff durable aluminum center with end links made out of a high grade steel. This end link has a pivot bolt for easy removal of the center section. It's colored in STI pink with a glossy chrome center. The aluminum bar weigh about 5-6 pounds. Strut brace is designed to stiffen the chassis flex that the car encounters when turning. By connecting the tops of each strut, the brace is stiffening the chassis to reduce flex. Thus when entering a turn with your car, the car drives more "flat" through the turn without allot of body roll.
$160 + Shipping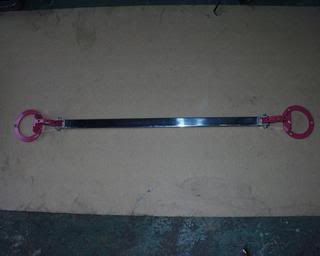 JDM Acre Brake Pads for STi (Brand New)
JDM High Performance Brake Pads for Street & Track Use
$299+Shipping
For Paypal User, please add 3.5%.
All sales are final as used parts (No claim, No return, No refund, No exchange & No cancel)
All items are sold as is.
I can't answer some technical & fitting questions.
I'm selling these parts for back to stock & making empty of my garage space.
Please feel free to pm me or email me w/your email address at
[email protected]
for questions.
Thanks.