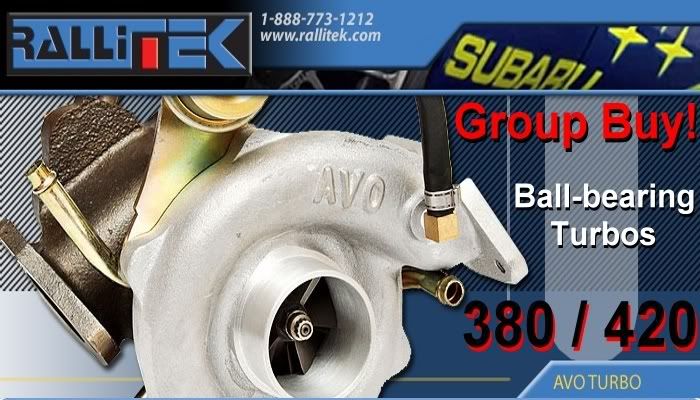 2008 WRX and Legacy GT turbos AVO 380/420/450/500/550 are in stock already. 2002-2007 WRX/STI 380/420/450/500/550 turbos in stock as well!
For more info on these turbos:
http://lib.store.yahoo.net/lib/yhst-...DturbosAVO.pdf
Group Buy for all AVO turbos ends on Oct. 1st.
The GB will work like this:
Place your order online at
www.RalliTEK.com
for an AVO turbo. The website will show retail cost and shipping to your door. Type "GROUP BUY" in the comments area, and we will hold the order until the GB closes on Sept 30th. We will not charge you until the turbos are ready to ship to you. You will be charged the GB price, not the full retail.
5% Off Retail for 1-10 turbos.
10% Off Retail for 10-15 turbos
15% Off Retail for 15-20 turbos
20% Off Retail for 20+ turbos
Price will depend on how many folks place orders! Get your buddies in on this...
This way no one has to give up $$$ and wait. You get a tracking number within 24 hours of being charged!
There is also "Buy it Now" pricing on our website!
We have 10 folks in right now. Orders placed as "buy it now" will count towards the GB. If GB price is lower than "buy it now", in store credit will apply.
Enter "NASIOC" in the shopping cart for for even more savings!!!
(NASIOC coupon code applies to ANY item(except AccessPort)).
This offer ends with the GB on Oct. 1st!
Thank you,
Sean S.
www.RalliTEK.com
PS:
To see the extra savings, add your favorite item(s) to the shopping cart.
There is a UPS shipping calculator on the front page of our shopping cart to get a quote to your zip code.
Goto the second page and enter 'NASIOC' in the coupon code area to see your additional NASIOC discounts.
Sale ends Oct. 1st!!
Thanks!
Sean S.
www.RalliTEK.com