So you have this great big gibongous T3/T4 turbo you got off Uncle Louie's dragster, but...how to put it on your Subaru? TurboXS to the rescue! The Rotated-Mount Turbo Install Kit gives you everything you need to bolt that puppy onto your WRX or STi.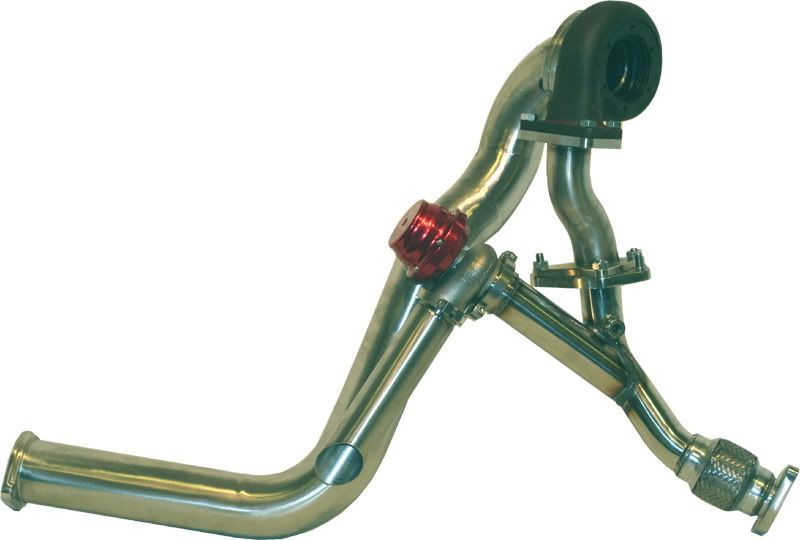 There are several options, but the most complete kit gets you...
Front-mounted intercooler
Bumper beam
2.5" mandrel-bent aluminum intercooler piping
"Big MAF" housing (for blow-through configuration)
MAF extension harness
High-quality silicone hose couplers
Stainless steel T-bolt clamps
Unique externally gated uppipe that bolts to the stock header and flanged for a TiAL 44mm External Wastegate (sold separately)
Wastegate Dump Tube for Tial 44mm
External Wastegate uppipe adapter pipe to raise and rotate the turbocharger
Downpipe (ends in same location as TurboXS Downpipe)
All gaskets, hardware, and oil and coolant lines for both STi and WRX
There's also a matching T04 intake pipe/filter setup. If you don't need all that stuff, you can buy the exhaust hardware separately. And if you already have a TurboXS FMIC, you can get the rotated-mount IC piping separately too. In all cases, you supply the T3/T4 turbo. GT30, GT35, AGP HP61 and HP66, and many more turbos will fit.
TurboXS Rotated Mount Turbo Install Kit -- Click Me!
Click the link for pricing, more info, and ordering.
--Dan
Mach V
FastWRX.com