It\'s too bad in this day and age things like this are so common. There really is no way to completely avoid something like this. And I guess all in all, I\'m glad it hasn\'t happened till now and hopefully won\\\'t ever happen again, or at least for a long while.
I know a lot of you have posted about your cars being broken into, things stolen and vandalized, and yesterday, I too became a victim, under not so ideal (if there even is any) conditions.
Home sick from work second day in a row, wake up to call in, cell phone is b0rked, will not turn on, even after it says it charged to full. Late in the afternoon I decided to grab some food, and only get about one half step out of my front door and see this...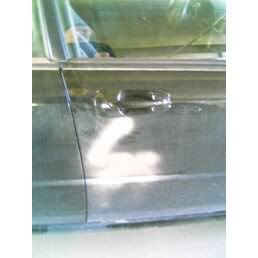 Looks to be an aborted attempt at writing something, or leaving a tag, can\\\'t tell for sure, and it doesnt really matter.
My car has been dirty for some time, I\'m not real hopeful, but maybe by some small chance, those layers of dust and dirt and mud will have kept it safe, at least a little bit. Someone at my office this morning mentioned a claybar, but I haven\'t done and research on that yet.
Does anyone have suggestions as to what might work best to try, short of a body shop of course.
CN: Some ***hole(s) left a aborted fetus spraypaint tag on my passenger front door. Looking for suggestions that might help take it off (short of a body shop).
Thanks for lookin and any ideas you might have, here\'s a pretty girl for your time.