Be able to log data while you are on the track, autocrossing, road racing, and drag racing, or rallying. The unit comes with software for use to identify track course (great for autocrossing). Be able to compare track runs, and you will not have to rent time beacons at the track anymore. Be able to keep lap times, know when you started braking, throttling, turning. This device is perfect for the driver that wants to learn and be a better driver
Be able to plot your lines on google earth
http://gt3000fa.multiply.com/photos/album/3#1
http://gt3000fa.multiply.com/photos/album/3#2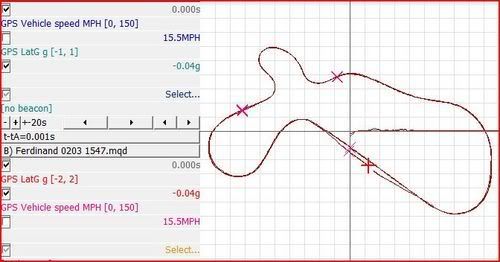 Be able to plot a diagram of the track, perfect for auto crossing.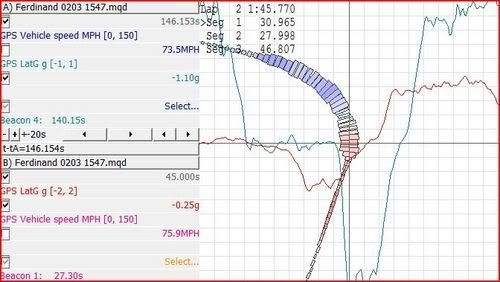 Be able to learn how smooth your driving techniques are, and how well you are doing compared to a previous lap.
- Bluetooth, 5 Hz sampling
- For Pocket PCs or laptop PCs with Bluetooth.
- Rechargeable lithium battery.
- Includes 12 VDC car charger and 120 VAC wall charger.
- Supply your own Pocket PC to make a complete system, or add the ASUS A626 Pocket PC below.
- Price includes software.
$289 MQGPS 5 Hz Purchase now free shipping
(Pocket PC/Phone or PC required for use, not shown)
The MQGPS is a breakthrough in capability, price, and ease of use compared to older accelerometer-based systems. No worries about leveling the unit, no errors due to roads that aren't perfectly flat. Stick it to under your windshield and go test. Easily transfer the system to another car for comparison. Use a Pocket PC or Laptop PC for flight recording, real-time display, and analysis.
Real-time display:
Lateral and Longitudinal acceleration up to 4g
Speed and Distance
Horsepower
Lap and segment times
Altitude
Satellite count
Turn radius
1/4 mile timeslips at the end of a run
Other features:
Track maps
Friction circle plots
Advanced GPS technology: 5 Hz sampling with MQGPS, up to 10 Hz sampling with MQGPS-HiDef (1)
Recording time limited only by available memory
World-class sensitivity and satellite tracking
Extended battery life (10-15 hours typical, continuous use)
Used by:
Autocrossers
Road racers
Motorcycles
Circle track racers
Drag racers
Karts
Boats
Skiers
Gravity car racers
For autocrossing or road racing, use QView™ mode to zoom in on your performance and uncover where you can save time. Overlay data files from other drivers to compare technique.
(red = braking, blue = acceleration, width of rectangle = lateral acceleration)
Just how accurate is it? Validation testing consistently shows timings within a few hundredths of a second of dedicated optical track timing systems:
(MPH readings are slightly higher than trap speeds because they are calculated at the line, not as an average over the previous 66 feet)
The MQGPS also works with third-party mapping and navigation software that can handle update rates greater than 1 Hz.
Ferdie
www.southcoastperformance.com
7144756450