I just have a quick question about the pinouts for the USDM STI leveler motor. i have the schmatic for the leveler switch wire diagram, but im just confused which pin on the leveler motor plug is pin 1. if someone could add the pin numbers to this pic and repost it, it would be greatly appreciated.
here is the direct link
http://i56.photobucket.com/albums/g1...k/IMG_2149.jpg
these are from an 04' STI going into an 04' WRX wagon
*EDIT*
Since i didnt have much luck finding info for this install on here, i will put up what i have found.
If you didnt get the plugs with your headlights, and cant find plugs for it, here are the pins for the USDM 6 pin (8pin with 2 dead pins levler switch)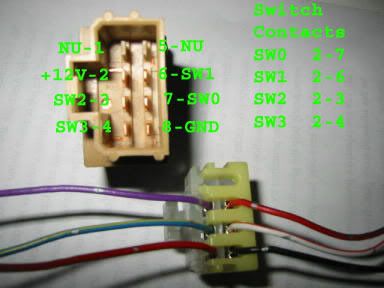 if you need the schematic for the leveler system let me know i have it.
Switch Headlight
Pin Pin
SW0 - 7 1
SW1 - 6 2
SW2 - 3 3
SW3 - 4 4
+12V- 2 5 +12V
GND - 8 6 GND