Hi everyone - I know "gauging interest" is frowned up by mods, but at this point it's really the most practical way to see if my car is worthy of selling. I'm leaving to the Navy and have come to the conclusion that it may not be worth putting in storage for 6 years (minus the few and far between vacations I might receive).
The car is in nearly flawless condition and the oil has been changed every 2,000 miles. Adult owned & maintained. It is now running on a synthetic oil blend. I have never tracked nor raced nor red lined this car. It has been my baby and due to Navy obligations it may be in my best interest to let it go before I ship to basic/BUD's.
Granted I could part it out, but I'd really like to sell it to an enthusiast who's interested in such mods as it's already been OS tuned for said mods. For now, I have no interest in parting it out (nor time/patience :P). Note that it's running on 87 octane and you can enjoy the benefits of better N/A gas mileage & prices
. The car sounds very mean & rally inspired, but won't wake up your entire neighborhood (depending on your rpm's
).
2007 Subaru Impreza 2.5i Sedan - Obsidian Black Pearl (5 spd)
approx 13k miles on odo
Full manufactures warranty, etc. (bought the car from Chaplin's)
Looking for around
19,700 w/ all mods included (willing to negotiate on price or sub out certain mods)
. (Note stock it's obviously a lot less (17,295 KBB value), but I've invested a good $4-5k in after market mods not including work/install jobs). I'll even throw in an extra set of brand new winter steelies on Bridgestone blizzak w-50 studless tires.
Feel free to contact me for a test drive or PM me with any questions you may have. Thanks!
[u]
Mod List:
Open-Source Tuned by the late Sean (Master2192):
(tuned on basic 87 octane - approx 27mpg high way, 24 city after multiple measurements I've taken)
(
Note
: I may be leaving out some items, I will double check the list when I get under the hood)
STi Type RA Struts
STi Springs (only 10k miles on them)
Genuine Borla UEL Headers
Highflow Cat
1 piece 2.5" Magnaflow catback (w/ resonator)
Injen Cold Air Intake
WRX Front & rear seats - Black (all 07' features, pressure sensor/side airbags, etc)
Kartboy short-shifter
Prodrive Mudflaps
Prodrive Floor Mats
Snorkel Delete
04' Gold BBS 5x100's on RE070's
Replica STi Front Strut Bar
35% front/passenger tint, 25% rear
5% Upper Front Windshield Tint
OEM Front Fogs
Custom Painted Front Head Lights
Custom Painted 07' Rear Tail Lights
Poly replica v-limited style lip.
STi Trunk swapped. De-badged.
STi Hood
Cobb Lightweight Main Pulley
Stainless Radiator Shroud
STi Replica front Strut Brace.
20mm rear sway
Front grill replaced/debadged with Grillecraft Mesh Grilles (from Subarugenuineparts.com) [black].
Lower Air Vent- added black grill (grillecraft - subarugenuineparts.com)
Full Infinity component system/amp/sub. (2 amps & 12" pioneer) (Sounds Great, all cables wired & hidden properly with monster 4 gauge)
Removed factory horn, replaced with Hella Supertones.
Forester OEM DIN fab'd for impreza
Valor Dvd player w/ 3" touchscreen (I JUST had it installed, and I love it)
Paranoid Fabrications 2.5rs Premium Grounding Kit
1 set of WRX Side skirts (not yet installed, will include if buyer prefers)
1 extra set of 15" nearly-new Steelies on bridgestone Blizzak w-50's studless
A lot of work and care went in to this car. No engine, or transmission work has been modified, or anything to make this car prematurely wear (like you see with a lot of modified cars).
Note, the WRX seats & upper front windshield tint is not pictured in this photo. I will have more & updated pictures soon (including engine bay & interior)!
Dyno chart: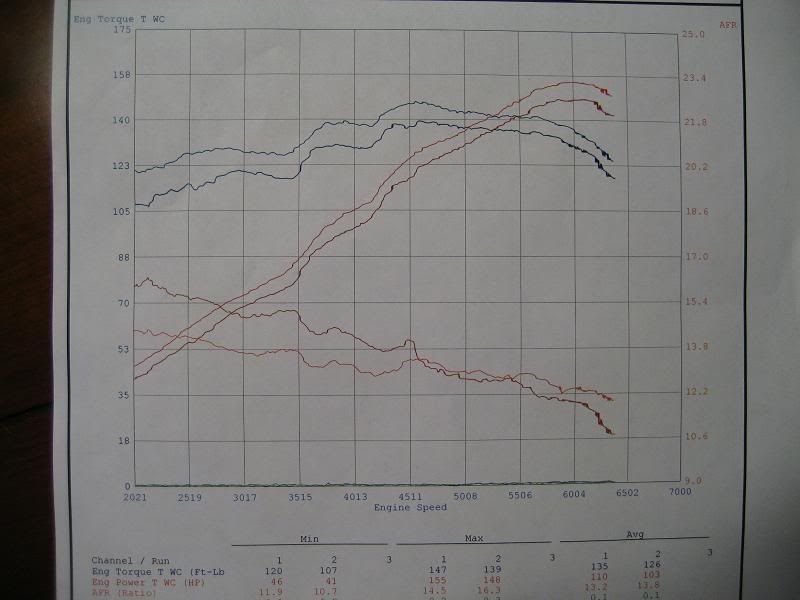 See thread:
http://forums.nasioc.com/forums/show...php?p=20304389
Quote:
Originally Posted by
Master2192
#1 is the retune, #2 is base. The bumps in torque are from AVLS kicking in (on the logs you can see engine load bump up with torque), I hope they find and add the AVLS map as I believe it will give a better midrange curve. I removed the open loop delays and enrichened the low end to run more timing and leaned out the top end.
Yes, thats:
155 whp
147 wtq