This 2002 WRX wagon is one of the nicest ones out there. I am the 2nd owner and the vehicle was stock when I purchased it in 2003. I have modified it either myself or by the Subaru professionals at Cobb (
www.cobbtuning.com
). I used only the highest quality parts, such as Cobb, APS, Perrin, Whiteline, all of which specialize in Subaru performance. The car has been conservatively tuned on Cobb's dyno and put down 255hp at the wheels, which equates to around 310hp at the crank. I have upgraded the brakes and suspension as well to keep up with the increased power output, making for a very well rounded, extremely fun to drive Subaru. It has 68,000 miles on it which is relatively low for an 02' and I have only had it on a race track once doing quarter mile runs (my best time was 13.8, but that was before the most recent turbo upgrade). Aside from a few small scratches here and there, and some rock chips on the hood and front bumper which are to be expected from an 02' vehicle, it is in excellent condition. I have always meticulously maintained it changing the oil every 3-4k miles with Redline full synthetic oil, wash every couple of weeks and wax once a month. It has been garage kept since ive owned it so you can be sure the paint is in very good shape, showing no signs of sun fade. I have all receipts and records and will provide them to buyer. Here's a quick rundown of whats been done to this Subaru.
Exterior:
STi CF blinker covers
Tint all the way around (darkest legal in Utah)
STi hood scoop
Morrette Projector headlights
Fastwrx front grill
Foglight grills
BMW M3 mirrors w/ blinker lights
LNR carbon fiber front lip
Interior:
Eclipse CD/mp3 player
center gauge pod w/ Autometer EGT, Air/fuel, Boost gauges
CF shift knob w/ COBB double adjustable short throw shifter & shifter bushings
Eclipse titanium 12" subwoofer and Eclipse Amplifier in custom hidden enclosure in spare tire well proffesionally built/installed by Innovative car audio
Engine:
Deadbolt td05 super16g turbo w/heat wrapped compressor & upgraded 15psi wastegate actuator
STi "pink" fuel injectors
Walbro 255lph fuel pump
Cobb Accessport w/ custom map
Cobb 3in. catted Turboback exhaust w/ heat wrapped downpipe
Cobb lightened crank pulley
Cobb turbo heat shield
APS dr525 front mount intercooler
APS 65mm cold air intake
Prodrive 3-port boost control solenoid
GT-spec jet-hot coated headers/uppipe
STi hardened engine mounts
GFB/Whiteline blow-off valve
Perrin upper/lower radiator hoses
Transmission:
STi hardened tranny mount
Advanced Clutch Technology (ACT) streetlite clutch
ACT streetlite 13.9lb flywheel
Cobb shifter bushings
Suspension:
H&R lowering springs (1.5" front, 1" rear)
Whitline front and rear strut tower braces
Whiteline anti-lift kit
Perrin front and rear anti-sway bars
Cobb rear endlinks
18x7.5 Rota Sub-zero rims with Falkin Ziex512 225/40/18 tires with about 50-60% tread left
Brakes:
Goodridge stainless steel brakes lines front and rear
Whiteline master cylinder bracket
Stoptech slotted rotors front and rear
Hawk pads
Im sure Im forgetting a few things, but thats a basic rundown. Kelly Blue Book value on a 2002 WRX wagon in "excellent" condition in 15,875. Upgrades to this vehicle are pushing 15,000 dollars, so I think its fair to ask $18,875. With this vehicle, you'll be getting much more than simply a 2002 wrx wagon.
Give me a call if your interested and want to come take a look! No joyrides unless you're a serious buyer.
Nate
801-635-6830
[/IMG]
[IMG]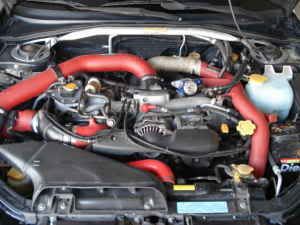 [/IMG]
[IMG]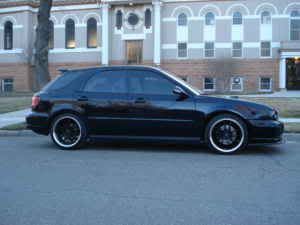 [/IMG]
[IMG]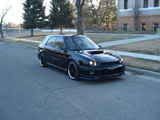 [/IMG]