Not sure of a way to bypass it. The way the system works is when the tire rotates around 10-20 mph it activates the sender which each one has its own ID code that sends a signal to the receiver that either tells the ECU everything is good or you have low pressure.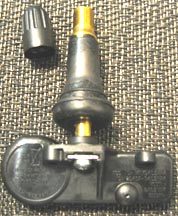 So its a little difficult to bypass. Looking for a way to just disable the dash light would probably be the easiest thing too do....
The wheel/tire/sensor will balance fine on a normal balancing machine....