SOLD firday 4,25,08
FS: Impreza Corssbar Kit from Subaru
Flat/Euro Style
$75.00 takes them away.... $135--169.00 new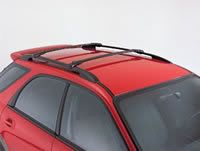 "fits 02-07 Impreza wagon's. Specifically designed to intergrate with your impreza roof rail."
I had these on my 06 WRX wagon for a month this winter before i sold the car, so they are brand new. They are fast and easy to put on and take off. Flow with natural lines of roof (don't stick out like thule or yaka bars)
Get ready for summer and carrying your bike, surfboard or roof box...
i would be willing to meet you for pickup in:
Mystic CT -- Tuesday night
Coventry RI -- Wednesday night
South Attleboro MA -- Friday night
or you could come get them anytime....