Sandisk Sansa e280, 8gb mp3 with fm and video:

$100 shipped. OBO
This is a great MP3 player for those on the go. 8gb + an expandable flash drive allow you to have up to 10gb of music, video, and pictures at your fingertips. It even has an FM tuner!! It is so tiny and lightweight, you forget it's even there. The battery lasts for up to 20 hours between charges!!!
The included software makes it simple to add media. The microphone allows you to make voice notes for yourself, or record conversations or lectures. The quality of the headphones is quite high, and the adjustable equalizer allows you to fine-tune to your liking.
Extras: I also purchased and am including a clear case which has prevented it from getting scratched. You can't even tell it's there. Also there will be a black silicon case with swivel mount and armband. There are 822 songs on this beast already for your evaluation purposes.
I accept paypal only. I will ship as soon as payment is received.
From Sandisk's website:
Features:
World's first 8GB Flash MP3 player, the largest capacity in the market
Sleek, thin design with large 1.8" TFT color screen for easy viewing
Strong alloy metal casing provides excellent durability and scratch resistance
Simple to use, backlit controls for fast device interface navigation
User replaceable and rechargeable Lithium Ion battery for up to 20 hours of battery life
Includes the Sansa Media Converter to support all picture and video formats
Features microSD™ expansion slot for additional memory capacity
Supports SanDisk TrustedFlash™-enabled cards and Gruvi content cards
Digital FM tuner, on-the-fly FM recording, and voice recording
Supports Subscription Music Stores
Minimum System Requirements
Windows XP
Windows Media Player 10+
CD-ROM drive
USB 2.0 port required for hi-speed transfer
Package Contents
Sansa e200 Series Player
Travel pouch and lanyard
Stereo headphones
Lithium Ion rechargeable battery
USB cable
Quick Start Guide, CD with User Guide, & additional flyer inserts
Polaroid 7" Portable DVD Player PDV-0700 Plus Extras!!!

$75 shipped OBO
This thing is fantastic for trips. Watch a movie on the plane or in your hotel room. I used it for all my travels, but I do not really travel too much, so I figured I'd pass it along to somebody that could get more use.
Included will be the player, remote, a/v cables, charger, wall adapter, manual, and:
I purchased a Case Logic portable DVD player case which holds everything perfectly. It even has slots for a few DVDs. Also, there is an audio splitter included so two people can listen with headphones at the same time. I'll even throw in the extra set of headphones.
Everything works flawlessly, although it is being sold as is with no warranty.
Sony Home CD Changer 5 Disk CDP-C700

$40 + shipping OBO
cd changer sans remote...
Great CD changer. Missing the remote, although you can find them on ebay (as I type this) for around $14. The plastic piece that covers the lcd display is a little crooked, but that doesn't affect the functionality. I just had this thing plugged in. It works great, although it is sold without warranty and as is.
Stalla CFA level I 2007 study material:
Stalla 2007 CFA Level I Study Guides, Lecture Notes, Lecture CD's, and PassMaster software. Also included is a 2005 Stall Practice Exams Workbook. This kit for 2008 is selling for $1190 from Stalla.
All items have been used. There are some helpful notes and a few problems worked out in the workbooks and the notebooks, and there may be a few pages missing here and there (although I doubt it). There will be no Serial Number provided. Stalla only allows one registered user per kit; meaning you will have access to all CD features, but will not be able to use Stalla's online help feature. Products are sold as is with no warranty.
These are fantastic materials and for a significant discount over buying new. These will be a great supplement to the CFA's own course materials or an inexpensive way to help you decide if the CFA is indeed the test for you. This is all my friend used to pass Level I on his first try.
Included are 5 Study Guides (sessions 1-18), 18 sections of lecture notes, 9 lecture CD's, and Startup CD/PassMaster v4.0.
make an offer. i was thinking around $250...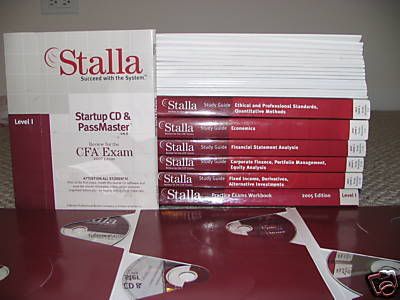 Motorazr case

$15 shipped OBO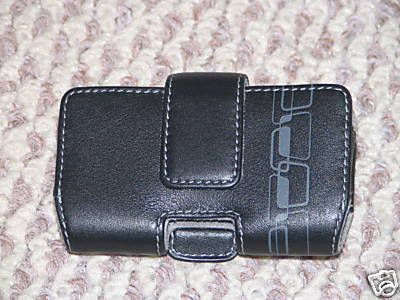 This is a genuine Motorola leather side pouch for your RAZR phone (or similar). It is by far the most stylish phone case I have ever seen, and I think pretty much all cell phone cases look pretty dorky. I can't find these for sale anywhere, and I have never seen anybody else with one.