04 STI stock block and heads, stock transmission.
Mods:
APS SR55
APS 65mm CAI
APS DR725 FMIC
APS 3.5" exhaust, really loud!
XX Tuning Header w/ Up-pipe
XX Tuning Fuel Rail Kit
PE 850cc Injectors
Walbro 255LPH Fuel Pump
Cobb AP tuned by Tony @ XX Tuning
Blitz SBDi-d III
One Step Colder Plugs
STI Hardened Motor Mounts
STI Hardened Transmission Mount
Exedy Stage 2 Cerametalic Clutch
Driveshaft Shop Rear Axles
Perrrin Oil Catch Can
From my post:
http://forums.nasioc.com/forums/show...highlight=sr55
I just got my Cobb AP tuned at XX Tuning. Tony did a fine job of sorting threw any issues that popped up an tune the car so it idles and runs smooth. The power comes on alot faster than it did with the UTEC. The Cobb AP definetly has more flexibility than the UTEC system.
The run was made @ 22PSI of boost on 93 octane fuel. I was hoping for 400WHP and 400WTQ on 93 octane, came close once with 399.3WHP and 405WTQ. The final numbers were 398WHP and 425WTQ, 2WHP shy of my goal but the car is tuned safe and that is more important that pushing just to hit a number.
The car pulls strong and holds 380WHP at 6800RPM, highest RPM shown by the dyno. The smoothness of the car is amazing too. If you drive under normal condition it almost feels stock, except for the exhaust note. The power comes on smooth and just keeps building. The SR55's power delivery is very predictable and easy to use. Funny how the car hides it's speed, before you know it you are going way to fast for the road that you are on.
We did a Powermist map but scrapped it because at 26 PSI I only made 418WHP and 453WTQ. The extra PSI didn't yeild the big payoff so I am waiting to do pistons and then retune with C16. The car made more midrange on the powermist fuel but lost top end power to the 93 octane map. Heatsoak could have had something to do with it but Tony said that the powermist just doesn't produce the numbers like C16 will.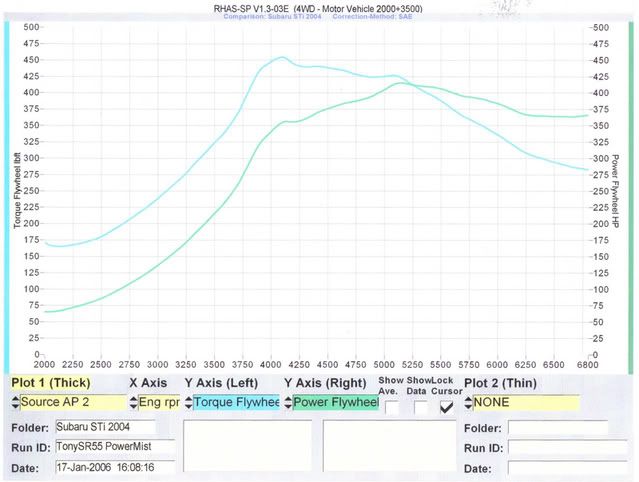 Sorry I don't have a 24PSI tune to compare to yours. The FP RED is a bigger turbo than the SR55 and to be honest at 24PSI I would expect you to be make well over 400WHP, especially with headwork and cams.