Aeromotive A1000 Fuel Pumps
Number one at the track and on the street.
These are the pumps that started it all. These A1000 fuel pumps are durable, reliable, and good looking, and they support high horsepower. Featuring a 600 lbs./hr. flow rate at 13.5 V and 45 psi, they are perfect for the daily driver that doesn't run like a daily driver.
$315 SHIPPED IN US

Aeromotive A1000-6 Injected Bypass Regulators
These Aeromotive A1000-6 injected bypass regulators were developed for high-horsepower EFI applications where -6 AN fuel lines are used for supply and return. These regulators are alcohol compatible and feature two -6 AN inlet ports and one -6 AN return port. They're beautifully finished with Type II bright red and clear anodized coatings and deliver long life, performance, and reliable operation.
$145 SHIPPED IN US

Aeromotive A1000 Injected Bypass Fuel Pressure Regulators
Intended for use with custom fuel rails, these true billet A1000 injected bypass regulators are specifically designed for use with Aeromotive's A1000 fuel pumps. These alcohol-compatible regulators are beautifully finished with Type II bright dip red and black anodized coatings.
$145 SHIPPED IN US

Aeromotive Fuel Filters
These Aeromotive fuel filters feature an advanced flow-through design to allow steady fuel flow with less than a .15 psi pressure drop. Designed for carbureted or fuel-injected engines from 200 to 1,000 hp, they're made from 6061-T651 aluminum alloy and have a 100-micron filtering element for reliable protection.
$99 SHIPPED IN US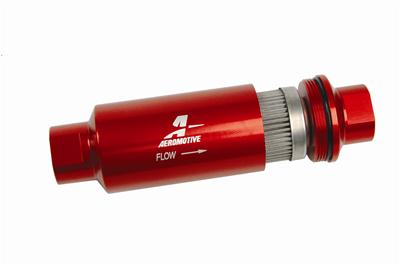 MUCH MUCH MORE IN STOCK!! PM FOR QUESTIONS