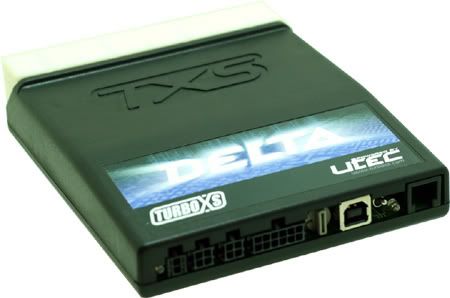 What is the UTEC Delta?
Its a very powerful piggyback plug and play engine management system that plug in right along with your factory ECU. Do not make the mistake of thinking piggyback means its not capable or advanced. This is NOT a piggyback like you would normally think of one. This is closer to a standalone than it is to a normal piggyback.
Check out what it offers.
PLUG & PLAY
: Installs in minutes on top of the factory computer using all the factory connections.
ADDITIONAL FEATURES
: Drag racing launch control (secondary rev limit used during launch). All UTEC software downloads and upgrades are free and available from Turbo XS's website.
5 MAP MEMORY
: 5 maps can be stored at a time, and using the remote map selector, you can quickly switch into valet mode, stock mode, nitrous, or race fuel maps with the click of a switch.
ON-BOARD DATA LOGGING
: Displays all necessary data required for tuning, including wideband AFR when used in conjunction with the Turbo XS Tuner.
COMPLETE IGNITION TIMING CONTROL
: No need to worry about the factory ECU pulling timing anymore; be as aggressive or conservative as you want or just let the factory ECU determine timing at any point in the map
FUEL CONTROL
: Controlled via MAF sensor signal offset, tune stock and larger than stock injectors; pre-set injector correction (just type in the size!).
LOAD REFERENCE
: MAP (manifold pressure)
CLOSED LOOP BOOST CONTROL
: Programmable via throttle Position and RPM. No more re-adjusting the boost controller due to changes in temperature or altitude. Keeps boost low while in closed loop fuel mode for reliability.
KNOCK CONTROL
: Automatically retards timing when the knock is detected safeguarding against engine damage. Adjustable knock threshold, timing correction, and duration.
END-USER PROGRAMMABLE
: Fine tune maps via a laptop equipped with a serial cable and Hyperterminal.
FUEL, TIMING, AND BOOST ARE USER-PROGRAM
MABLE: in 250rpm increments up to 9000rpm over 10 load sites.
BUILT-IN PROGRAMMABLE SOLENOID CONTROLLER
: Control nitrous, water injection, intercooler water spray or any other solenoid device.
PRE-PROGRAMMED BASE MAPS
: Standardized maps are available for common setups (i.e. turboback exhaust, upgraded intercooler, bigger turbo & injectors, etc.) Maps can be uploaded and downloaded easily