We strapped my car down yesterday at Enhanced Street Performance's Mustang 1100-AWD-SE Dyno.
Ambient Temperatures were about 50-60*F
Run1-Power
217.7 WHP @ 6074 RPM
219.6 WTQ @ 3642 RPM
Run 2-Power
218.3 WHP @ 6489 RPM
220.1 WTQ @ 3722 RPM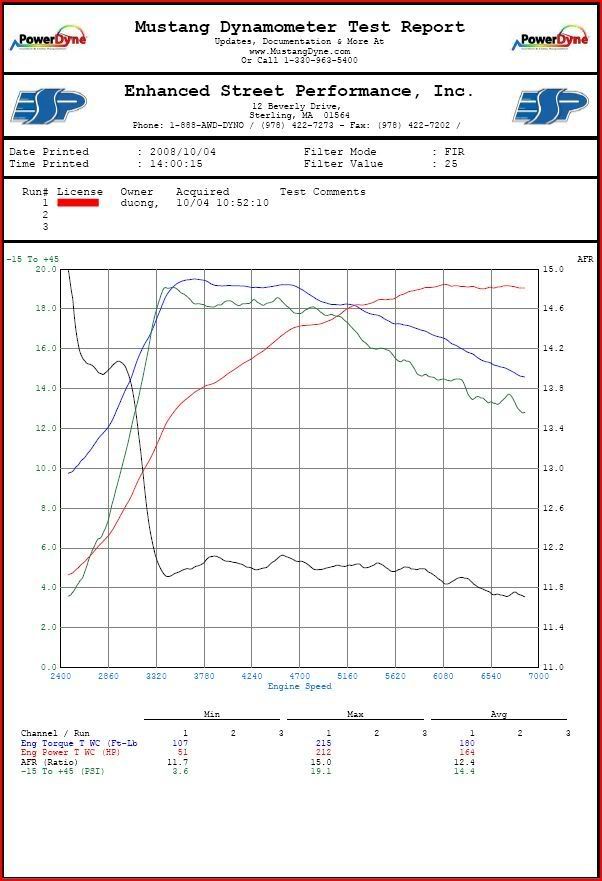 *Note: That is the same graph, with different scales. First Sheet: WHP on Left, WTQ on Right. Second Sheet: Boost on Left, AFR on Right)
Run 3-Timed
20-100MPH
15.59 Seconds
0.3 Miles
Me driving, shifting to save the transmission.
Video of all 3 runs:
http://www.youtube.com/watch?v=IiJQ-tA7Khw
Video of Run 2 from a second camera:
http://www.youtube.com/watch?v=LVvCXlJpXpA
Car is a 2002 WRX. The only power mods are:
APS 65mm CAI
Invidia V2 Catless Downpipe
IAG Performance/TiAL Sports 38mm EWG Kit w/ External Dump
RomRaider tuned. ~20PSI peak boost.
Apparently, on this dyno, Stock WRXs pull 150-160ish, Stock STis pull 220-230ish. A 2002 WRX Stage 2 with a STi Top Mount made abotu 15WHP/WTQ than I. My 20-100MPH time suffered big time due to my shifting. The kid who ran after me with a 2005 WRX Swapped RS dyno'd 10WHP/WTQ less, but due to FFS he ran a low 12 sec.