ProSport debuted it's new wideband o2 gauge at the SEMA show. It is the widest reading wideband on the market, reading from 10.0 to 20.0. It is the only wideband on the market using the new Bosch 4.9 o2 sensor. The opening price for this gauge is only $229.00! After the first shipment is sold the price is going to go up. Now is the time for a great wideband.
Taking pre-orders now. They will be in stock in about two weeks.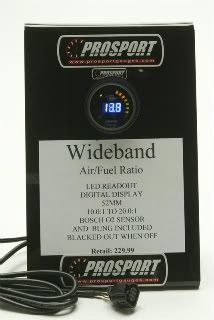 Wideband Air Fuel Ratio Gauge
52mm (2 1/16")
(Pre- order price -shipping on/before 12/5/08)
Utilizing the latest Bosch wideband O2 sensor -5 wire heated 4.9 (Prosport Inc. is the only one licensed in the USA to use them) our gauge now has the widest range 10.0:1 to 20.0:1 AFR readings on the planet.
Featuring Blue LCD readout in the center of the gauge and a bar-graph syle LED's around the outside of the gauge that change from green(Lean) to Yellow(Optimal) to Red(Rich) for immediate reference to AFR.
This is a complete kit that includes everything you need:
AFR digital Gauge
Bosch 4.9 5 wire heated O2 sensor
Weld in Bung
Instructions
Wiring harness(Gauge to O2 sensor) Plug and play
Decals
Visor/hood
Prosport gauge packages on sale.
Boost/EGT/oil psi Peak/warn sets. PM for best price!
Digital series now in stock!