I've done my research a bit...
I have a siezed tensioner pulley which pretty much has taken the spring with it, causing it not to work the waterpump correctly.
Had no idea so I drove a bit of miles on it, and bam I now have a leaking headgasket. When I look under the car, I have a very minute leak with the oil + coolant where it meets the pipe which takes it out the muffler.
So, would you agree this is a leaking headgasket? I want to make damn sure lol.
Heres some pics hopefully that can help...(more pics below)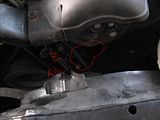 Heres the picture of the pulley which does not move, with the help of another member on these boards, plus some subaru techncial books I can say it's the tensioner, and it's only safe to assume the spring in it went--requiring atleast a new timing belt + tensioner fix. If it was just that, I'd say okay I'd fix it.
BUT, now I have the issue of possile coolant and oil combining, which of course means headgasket issue. Even with a minor headgasket leak, I still have the EJ25 engine which of course is Subarus' favorite engine of this time to be ridden with these issues- My luck lol.
The reason why I think the oil + coolant is combining, is because there is white smoke coming from the exhaust manifold of the engine..
and the oil and collant here are combined: (Plus you can see abit of the smoke, usually it's alot more worse then that!) After the car's been off for a while, I touched place where both exhaust pipes meet to come into one and it was brown with sweet stickyniess. so, Oil + coolant.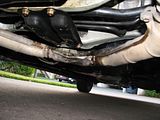 Heres the leak I saw on the ground this morning, after I left the car overnight in the spot..
sweet stickyness coolant....
So, is it safe to assume it's a leaking headgasket?