Up for sale is a set of brand new in box Voxa rotors for an 05 to 07 sti. They have just been sitting around and i need them gone. I also have for sale my Cusco Econ electronic damping controller (which includes control box, all wiring and the motors for the strut tops. Comes with Misc hardware) It is used but only for about 2 months on my drift car and then i took it off.
heres a little info of them from Nukabe where i got them from
VOXA Sport Rotors, Front - SET, 2005 STi *Only 05-07*
$285.84
Benefits of VOXA Sport Rotors:
1. Superior Metallurgical specifications and controls
2. Superior performance under severe conditions with guaranteed performance.
3. Modified and improved inner brake rotor hat.
- Minimizes brake judder
- Minimizes brake noise
- Minimizes heat build up
4. Unique slot arrangements.
- Help maintain the friction surface of the brake pads
5. Special fin shaped design.
- Increases cooling performance
- Improves braking effectiveness
Note: Fits 05-07 STi only. 5 on 114.3 PCD
my price is $200 shipped OBO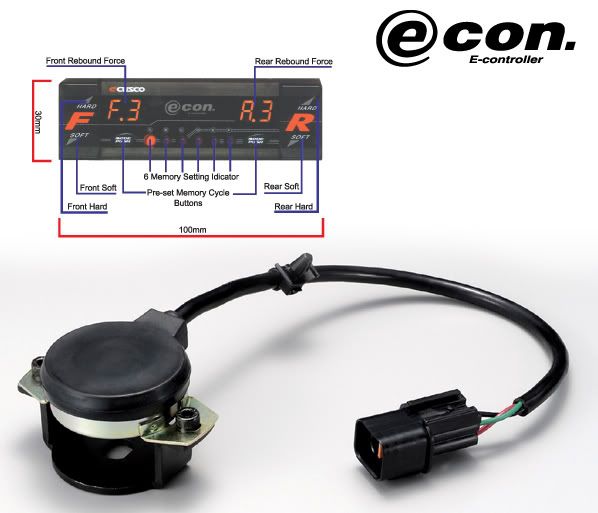 Cusco E-Con Controller, Zero2E Controller
$460.00
-Memorizing: 6 Preset Memories Available
-Rebound Force: 5 Stage Adjustment for the front and rear independently.
-Stylish Operation Panel: Witht he operation panel thickness being a mere 30mm. Installation and location options are increased.
Operation Panel: 100mm x 30mm x 30mm
Adjustment Motor: The E-con uses high quality adjustment motors to control the rebound force quickly and accurately. The motor utilizes a special rubber cover to shield iteself from dust and moisture.
Lighting Adjustment: Brightness of the operation panel can be adjusted or turned off.
Cusco Strut Bars: Will fit Cusco strut bars. (except few models.)
the controller is for all cusco coilovers that accept the econ. (all applications.) cusco's version of the tein edfc
my price 200 shipped OBO
Best way to reach me is at
[email protected]
or if you are in a hurry you can call me at 321-960-9527
thanks for looking
Tom