CLOSED
Hey everyone,
My Supers trackpipe (sourced from RS25, Supers is the vendor) came in today. I just finished installing it, and it is too raspy for me. I want to make this clear, I am not selling the pipe bc it is a bad product, it's just with my current setup, it does not give me a deep sound that I am looking for. My set up is below:
stock singleport header
Track Pipe
03 midpipe with single resonator
STi axleback
It normally produces a sweet deep boxer rumble, but the STi axleback doesnt let it do so and I cant afford to buy another resonator and have someone weld it in due to some school complications with my university and I work in DC and I cannot afford a ticket right now
I will vouch that the welds are spectacular, there is a blueish tint signifying that it got up to temp and that its going to hold a lot better because of that. The trackpipe is made of stainless steel and fits PERFECTLY! No issue with fitment at all. The bungs for the o2 sensors are spectacular as well, not a single point where anything could leak. The pipe itself is incredibly light as well.
Here is the photo that the vendor provided me: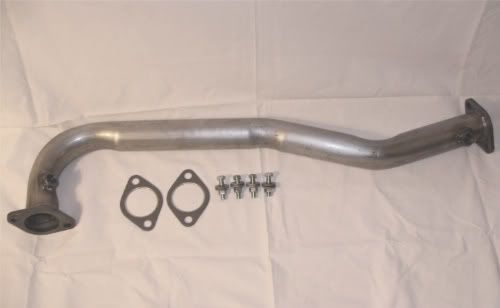 Here is the group buy I bought it off of. The selling price is 185 now so you are still getting a steal.
http://www.rs25.com/forums/showthread.php?t=98979
The FAQ section taken directly from the ad:
FAQ:
What years/models does this fit?
It fits all RS Imprezas, Legacies, Foresters 97-01. It also fits the 93-01 2.2 liter motors (L, OBS) and the 02+ Impreza RS's.
It will not fit any turbo models, or the 1.8 Impreza.
Will going catless hurt my engine?
No. Removing the catalytic converters allows for a less restrictive exhaust. It will not harm your motor whatsoever.
How much power can I expect?
I'm not going to quote specific numbers, but putting this cat delete pipe in is one of my favorite modifications. The gains in the high end is noticeable, especially when you're tuned for it.
Will my car be horribly raspy?
Only if you have no resonators anywhere in your exhaust. I currently have an 18 inch resonated midpipe, and I love the way it sounds. You can always buy a stainless steel resonator and have any shop weld it in anywhere along the exhaust if you don't like the way it sounds. I have people constantly telling me how good my car sounds. One kid told me it was the best sounding Subaru he's ever heard... a smooth, deep growl.
What about emissions?
It depends on your state. Some states have emissions, some don't. Some are more strict, some are easy. I sell MIL eliminators which will shut off the check engine light from the p0420 code you'll get. If you're still paranoid, you can always swap out the stock cat section during inspection and put it back up afterwards. Emissions/Inspection is only once a year, if that, and this section of the exhaust is 4 bolts.
--------------------------------------------------------------------------------------
I am looking for 160, I bought it for 175, but it is less than a day old on the car and I plan on taking it off later today (2/11/09). This is for the pipe only, the bolts that were on my car were so seized that I had to break some of them so I am planing on keeping these. Either way, bolts are super cheap anyways. I still have the original box that it came in so it can be packed and shipped real soon. Thanks for looking! Please PM me if you have any questions, I am on here for a good chunk of my day and I check it about hourly. Thanks again.