Shop: Motion Lab Tuning
Dyno Type: DynoCom FX5000-AWD
Temp: 43F
Boost: 21psi
Fuel: 93OCT unleaded
Target AFR: 11.5:1
SAE Corrections: Default Corrections
Peak HP at RPM: 320whp @ 4800 RPMs
Peak Torque at RPM: 379wtq @ 4350 RPMs
Transmission: WRX 5speed
Gear: 3rd
Engine Management: Opensource
Engine/Power Modifications:
Perrin Performance Aluminum TMIC
Invidia Catted downpipe w/ Grimmspeed adapter
SPT Tuning Catback exhaust
Motion Lab Tuning 3-port EBCS
This is 2009 WRX we finished up several weeks ago. Car had the OEM VF52 and a pretty fresh motor. He had an unfortunate failure very early in the ownership at the car so it had a new motor installed at 18,000mi. The weather was pretty cool out and kept the TMIC nice a chilled in-between pulls. The car was totally stock and he contacted us for a solid "stage2" set-up. He liked how quiet the SPT exhaust was so we kept that in place and added a Invidia catted downpipe to the mix. Because we didnt want to limit the results of the dyno tuning I recommended the addition of the TMIC versus adding an intake or up-pipe into the mix. Its a bit more expensive but the results speak for themselves when we can push 21psi versus 17psi on the OEM TMIC. It gets you a huge bump in torque in the mid range. He is happy with the power for now, only expected additions in the near future are the nice RCE Black springs and a Kartboy shortshifter and shifter bushings.
Final HP/TQ Graph: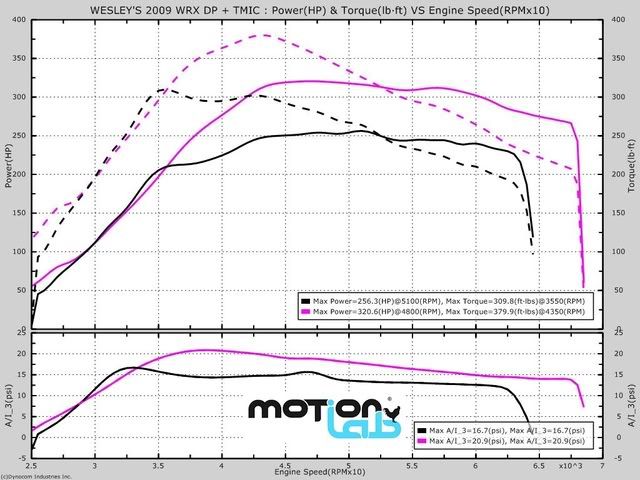 Follow whats going on at the shop on our Facebook page
Motion Lab Tuning - Automotive - Charlotte, NC | Facebook
Thanks for looking!
Alex Goodwin
[email protected]
MotionLabTuning.com - Engineering Performance