Here is my 06 Blitz STI:
ASKING PRICE: 26000
Front: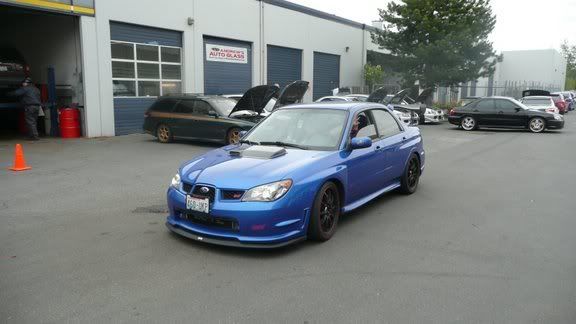 Engine bay:
Rear:
Side:
MOD LIST:
Engine:
Blitz Triple-K GD Turbine Kit J-Spec (KKK450R #8)
Blitz Catless DP (heat Wrapped)
Blitz EWG
Blitz LM GD FMIC
Blitz Sonic Power GD Intake
Blitz Cooling Performer Rad. Hose GD
HKS SSQ BOV with recirc (custom piping for the recirc)
GTSPEC Twin Scroll Exh. Manifold (heat wrapped)
Sun Auto Hyper Force w/Harness GD
Sun Auto Hyper Voltage System GD
Walbro 255LPH Fuel Pump
Process West Oil Cooler Kit GD
PE 850CC Injector Side Feed
Exhaust:
Blitz NurSpec C-Ti (RARE!!!)
Engine Dress ups:
Blitz Racing Type 1 Rad. Cap
Blitz M42 Oil Cap
EM/Monitoring:
Blitz SBC ID Color
Blitz SBC ID Temp/(A/F) Sensors
Cobb AP2
Blitz Dual Turbo Timer DC IV
Exterior/ineteror stuff:
ARC Ti-shiftknob
ARC hood scoop.
Mature Diffuser
PIA Fabricated FMIC bracket
PIA Fabricated Exhuast shorty-pipe
KitoAutoSport Fabricated Diffuser mounting bracket
Raybrig HB3 HID white High beam
Raybrig Ion Yellow Parking bulb
Raybrig super white License plate bulb
APR GTC-300 Wing on Seibon carbon trunk
Volk TA CE28N
Suspenion/Brake:
Tein Mono Flex with EDFC
Tein Front/Rear Strut bars
Cobb Sway bars F/R
Kartboy Endlinks F/R
Performance Friction two piece rotor Front
DBA slotted rotor rear
Performance friction pads F/R
Goodridge SS brakelines.
Motul Brake fluid
Dynoed Number: 331HP, 359TQ/92 Oct On Mustang Tuned by Tim Bailey On a DD boost map. (3 other boost maps available and making more power)
OK, I'm putting the car up for sale, please PM ONLY if you are serious about buying it. Will only be giving rides if you are serious about buying as well.
This time, I'm including everything I have for this car in the sale. This includes a brand new sets of Cusco Engine/Tranny mounts that have not been installed. Yes, EVERYTHING! Which includes the Volk Time Attack CE28N wheels! Everything Carbon is also included! Mature Carbon Diffusers! Carbon ARC scoopes! EVERYTHING! Even some Stock items that I still have (sway bars, stock springs, stock endlinks, stock catback, stock diffuser, stock trunk w/ STI wing!). I had too much headache trying to promise other people parts and when the car buyer backed out, I had to told those people "sorry, can't sell you those parts now".. So Everything is included. NO PART OUTs!!!!! So don't bother to ask!
The car is very well taken care of, it does have some dents (4 total) and a scratch at the rear bumper (jackasses in the parking lot). Also there are chips on windshield but are all filled to prevent any cracking.
Oil change is done every 3k miles with Pennzoil Platinum Synthetic 10w/30. The brake package was just put on this year in July with fresh brake fluid. The car as built by PIA and have a clean title. All the defects were described in previous paragraph.
The car has 28972 miles right now, which is low mile for an 06.
I just did the 30k Mile service at Smart Service last month and was given a clean bill of health for the car with all the fresh fluids (all synthetic!!! )