video of the 1/4 mile pass
http://vids.myspace.com/index.cfm?fu...deoid=45288027
Dyno video 5+ minutes long.
http://vids.myspace.com/index.cfm?fu...deoid=45289674
Thats right, finally got the forester dyno tuned by Jorge at P and L motorsports in Chicago. Wonderful shop, great group of guys and we will bring our Legacy GT back to have it tuned this spring. Pam and I had a blast and meet great people at P and L, a huge thanks go out to Ty, Jorge, and Paul as well as the whole staff.
the mods are as follows
2007 Forester XT auto
2008 VF48 STI turbo
2008 STI TMIC
Walboro fuel pump
Gimmick motorsports turbo inlet
P and L short ram intake
Turbo XS 4" downpipe, 3" high flow cat, 3" Ti cat back
B&M trans cooler
WRX suspension
The graph speaks for itself. Jorge cut off the power at its current points sue to the transmission being not up to par. It has more power in the set up, and alot more tq. This was done on 17-18psi on pump gas. The VF48 is superior to all other oem sti turbo's as it doesnt fall on its face as the other's do.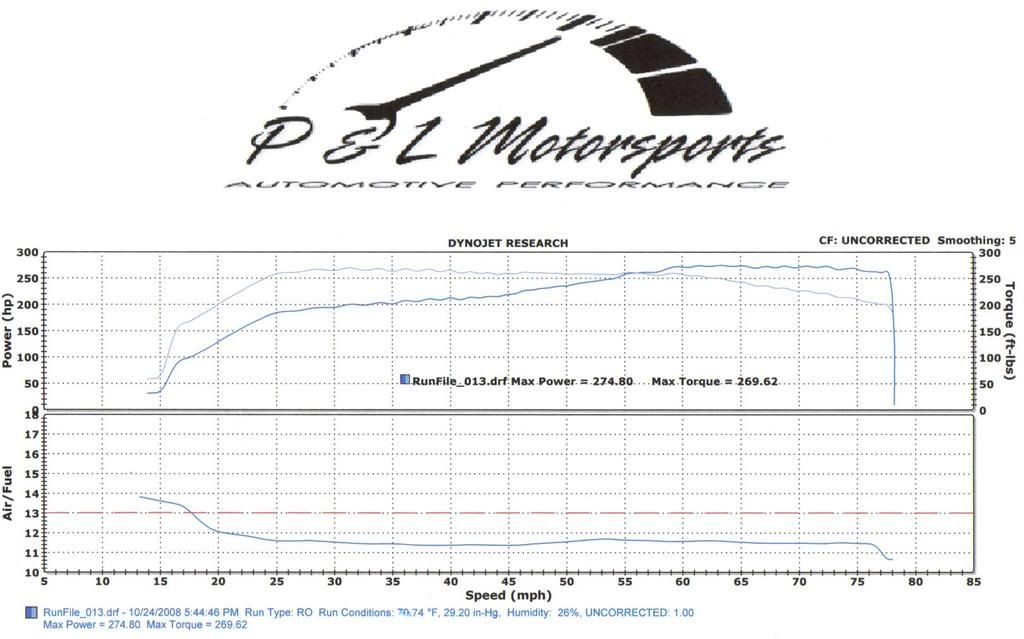 Now onto the slips
The first pass was an easy pass, no brake boosting, just go. 2nd pass was brake boosted, but I messed the shifts up and it hit redline in 1st gear. 3rd pass was solid, and well, decently quick for a suv.:bigthumbup:
All in all its quick for what it is, and thats what we wanted as a daily.
I am working on the dyno video and track video and will post those as soon as possible.