I just went from an APS SR40 to a Bouch Dom. 3 and I am sharing the results. As everyone might be aware the SR40 is 40lb/min turbo and the Dom. 3 is 52/min. This doesn't seem like a good comparison but the results were actually quite interesting. I felt that going from a 40lb/min turbo to a 52/min turbo would be night and day when it comes to power and response. Wrong and wrong.
The graph below shows the comparo between the two turbos. Please know the only difference in mods besides the turbos are the intercoolers and BOV's. The SR40 was mated to the stock STi intercooler and the stock bypass valve while the Dom. 3 was mated to a APS DR525 FMIC and an APS 50/50 BOV.
Mods:
2006 STi
Cosworth Pistons
Cosworth head studs
Stock heads
Blouch Dom. 3 (8cm w/2.4 inlet)
APS DR525 FMIC
APS Inlet
APS 70mm intake
APS 50/50 BOV
Aquamist HFS-5 (dual nozzle) 50% meth 50% H20
Crawford TMIC A/O Seperator
Tomei EL Headers
Tomei Uppipe
Walbro Fuel Pump
DW 740cc injectors
Titek Catless DP
JIC Full Ti catback (non resonated)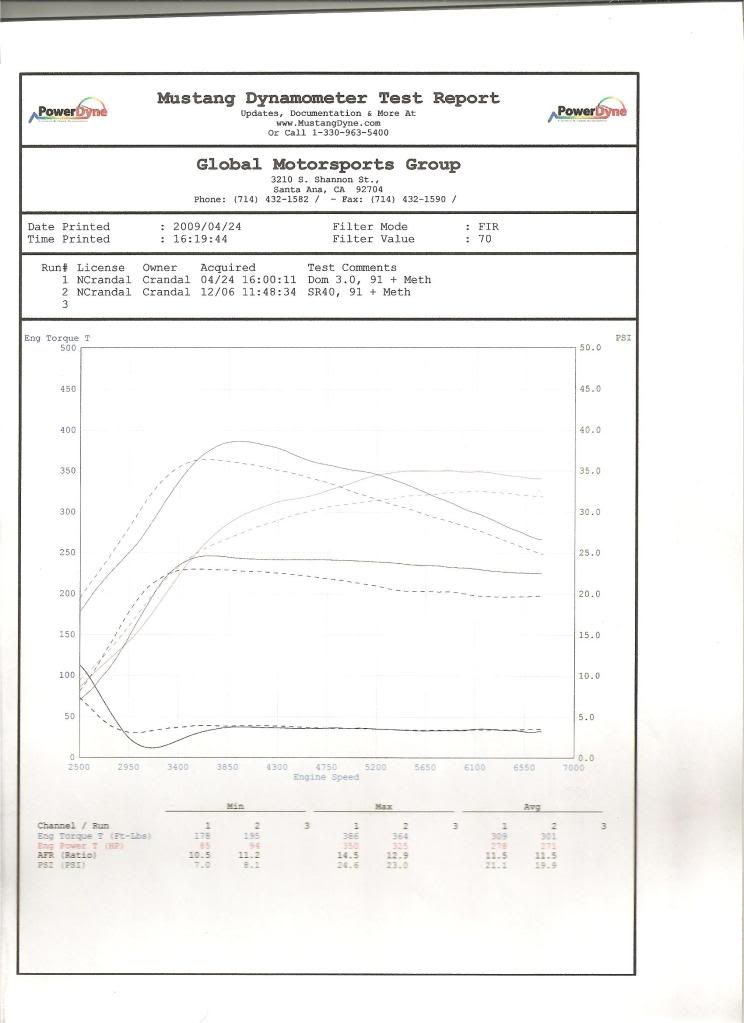 DOM. 3 = 350whp/386wtq
SR40 = 325whp/364wtq
For the record the SR40 map Harman gave me was tuned down to 322whp/355wtq for the street. So the map above was never used. With that being said the results to me seem interesting. First of all the spool is pretty darn close between the two even with the new Dom. 3 using a FMIC. Definately not as punishing as the low end of the SR40 but very good. What is most suprising is the power. I only gained 25whp and 22wtq. Keep in mind my tuner did make a few "Banzai" runs on the Dom. 3 which yielded more power but over all not a huge difference. To be honest the sr40 feels quicker 1st thru 2nd and almost as fast in the uppers. The difference really is in smoothness. The sr40 was quick but the Dom. 3 is sneaky fast. It is so smooth in the higher gears that you really don't realize you are going as fast as you are.
For the money the Dom. 3 is much better but then again with the SR40 you can utilize the stock intercooler and with the Dom. 3 you cannot. You can be the judge. I will tell you that I do have a lot of respect for the SR40. It reminds me of a little tough guy trying to pick on the big boys. Sorry for the rant.