Well, I finally had a dyno day to attend, but made myself promise not to work on the car until grad finals were over. Of course this meant I had the night before the dyno day to tune my setup
Even worse, the night before I found a meth leak, so the day of (morning) I had to relocate and fix my meth kit. I *JUST* made it in time to the dyno day.
Cheap Setup, 04 STi
- Fujitsubo EL headers - used
- APS cast UP - used
- OG FP Green 7cm 2.4'' turbo used, (for cheap, DOM 3 weenies are dumping these
)
- AEM CAI- used, filter cleaned
- Gimmick inlet - new
- APS TMIC - used
- Helix
CATTED
DP - new
- Borla Hush 3'' cat back - new
- DW 720 CC injectors - new
- Hallman MBC, Prodive EBCS and Labonte BBK-20 all working together to control boost. Don't ask, I don't have the energy to explain.
Meth:
- TMIC Tank used in trunk
- Devils own pump in wiper tray
- Labonte IFS-10 in wiper tray
- 10 GPH nozzle
- 16 PSI checkvalve
- Boost switch set at 2psi, meh.
- 50/50 water & meth.
- misc
Dyno: DYNOJET
- 23 PSI taper to I think about 19.5, had issues holding boost.
- 12:1 AFR until 6k RPM and taper to 10.5:1 redline.
- 95F in the shop
. In the winter the car feels far faster. Ohhh well.
- Sunoco 93 octane
- UTEC SD, no MAF fueling
Run 1: Meth + a couple degrees added for fun. Note, boost tapered a little and AFRs at the end were 10.5's. Had I had the time, I'd target 11.8's at redline and probably would have picked up a good bit of HP. 29 degrees redline. RPM pickup failed a little. Note the meth kicking in
Run 2: Base meth run. 26 degrees timing at redline, 17 degrees peak torque. From run #1, only 7whp/tq was picked up with added timing. I've since brought the tune back down to 26 degrees.
Run 3: This was my old stage 2 UTEC map. Obviously before I knew how to tune for torque and before OS was available for AVCS tuning. 3+ years ago I might add
Run 4: Same as above I think.
Note that stock STis do about 240/240 at the wheels on this dyno.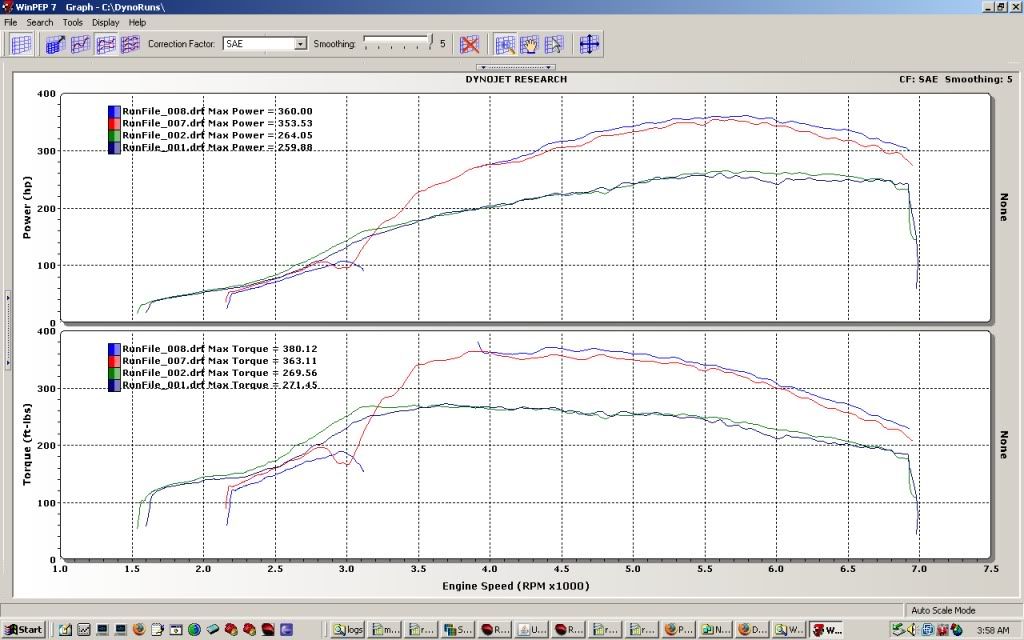 There are some deficiencies in my meth tune. First off I've already corrected the rich 10.5:1 taper at redline. The other issue is that I have an 11psi wastegate spring, I plan to upgrade this to a 20 psi version and with this hope to peak at 26 psi and taper to 23 psi. I'm betting I could just lick 400whp & 400whtq on this dyno with the above done.
Overall for a tune the night before, I'd say things turned out well. Dan @ MachV was impressed with how safe/smooth the tune was. This was great to hear as I tune in my own little bubble.