It's not plug and play, but not far from it. Please do a seach, as this has been disscuess 1000 times before...But since im bored, and only have 15 minutes of work left before the long weekend I will chime in.
There is nothing you need to do on your end to make things any easier other then possibly include the leveler switch from the dash, if you do a seach under my name, you will find a write up on how to DIY wire the leveler swithc that you can forward onto your customer.
He will need to either build, or buy a headligh wiring harness, this should include a relay that when activated by the stock lowbeam harness, will pull power directly from the battery, as to not overload the stock WRX harness.
Although this may not be as descrirpitive as you may have been looking for, like is stated earlier, if you do a search under my name, you will find all the threads you will need as i have done this swap in the past, and made some threads pertaining to it with pictures.
**EDIT**
Here is the info for the levler switch wiring: As far as the wire harness to power the ballasts, ANY quality HID wiring harness that has a relay and doesnt rely on the stock wiring (meaning it pulls the power directly from the battery) will work. These can be sourced anywhere from $10-$100 If i can find where i purchased mine, i will post that link as well. best of luck with the sale.
If you didnt get the plugs with your headlights, and cant find plugs for it, here are the pins for the USDM 6 pin (8pin with 2 dead pins levler switch)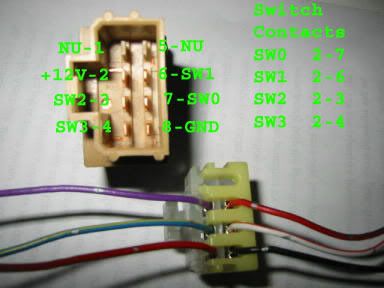 if you need the schematic for the leveler system let me know i have it.
Switch Headlight
Pin Pin
SW0 - 7 1
SW1 - 6 2
SW2 - 3 3
SW3 - 4 4
+12V- 2 5 +12V
GND - 8 6 GND