I have an 09 OBS and I was messing around with some sound deadening and was ripping up the floor of the front passenger side. There was a black plate that I removed that was covering this:
First of all, what is that exactly?
But my main question, on top of the plate, before I removed it, there was this literally just hanging there: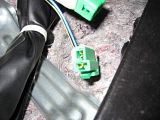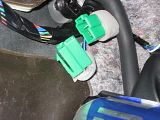 They look like they will connect to each other but I didn't try to do that not wanting to find out the repercussions.
This doesn't seem like it goes into the box shown above though. Oh well...
WHAT ARE THESE GREEN CONNECTORS THAT I SEE HERE? HELP!
Thanks!