A recent daydream got me thinking life would be more fun as a professional racecar driver. You've had this dream too. It occurred to me this dream is unlikely to become reality if I stick with autocross for the rest of my life. It was time to make a move. Time Attack seemed to be an appropriate medium to transition to professional racing since it has more sponsorship support and it is much more in the eye of the media.
A few clicks on the internet pinpointed the next time attack event within driving distance: the two day season finale of the 2008 Redline Time Attack Series held at Virginia International Raceway in conjunction with the GT Live Tour. The great appeal for me was seeing that the Street Class competition was to be battled out on the Patriot Course, a tight infield track with lots of safe runoff spaces. Autocross experience would help on such a course. Additionally, the tight track afforded little advantage to cars with lots of horsepower and extensive power upgrades. The straights on the Patriot course are short lived and the name of the game is cornering balance.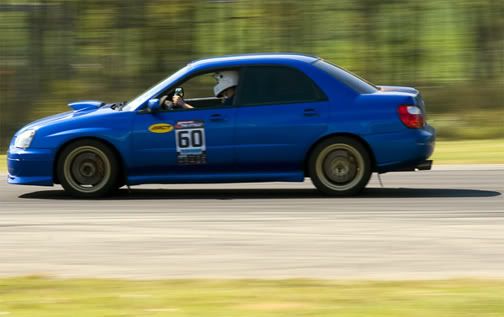 My WRX STI, prepared merely with thicker sway bars, beefier endlinks, an upgraded clutch, springs, camber plates, downpipe, and a COBB ECU tune, stood a fighting chance. All the moons and stars seemed to be in alignment as the path to transition to a higher level motorsport materialized.
Before I knew it the spontaneous 8 hour road trip from New York City had concluded at the serene motorsports facility in the midst of country farms. Upon pulling into the Patriot course paddock at VIR early Saturday morning, it was clear this was not my weekly autocross competition. I was surrounded by drift and time attack cars with extensive sponsorship support.
A quick glance at my dashboard reminded me that I was running on fumes and it was time to hit the Sunoco pumps on site for the good stuff – 100 octane. The short drive up the infield led me to the main paddock, home to the gas pumps and to what seemed like hundreds of Koni Challenge / Grand Am team trailers… tractor trailers.
At this point it occurred to me that nearly 4 years after motorsports (namely autocross) became my sole obsession I had never entrenched myself in the experience of a professional race. Looking at the paddock I realized I knew as much about professional racing as I do about String Theory. Nevertheless, I can drive fast and this GT Live Tour event seemed more and more suiting as a kick off point for my lofty goals.
After tossing all the road trip essentials into a nice "neat" pile in the paddock and listening in on the drivers' meeting, the course was opened for an optional 2 hour practice session. Having never driven any layout at VIR I certainly had my work cut out for me if I wanted to finish strong at my first time attack.
While strapping myself into the car my lone crew member, local autocross competitor and girlfriend alike, quickly bled air from the Bridgestone RE01-R tires to go from fuel-economy-pressure to race-pressure. I cautiously pulled out onto the course analyzing the unfamiliar tarmac. With my driving dialed back to about seven tenths I discovered closely-linked sweepers and some very fun elevation changes. On the tight second gear sweepers I felt right at home – experiencing autocross flashbacks. The changes in elevation corner to corner, however, were an unfamiliar dynamic element that took some getting use to.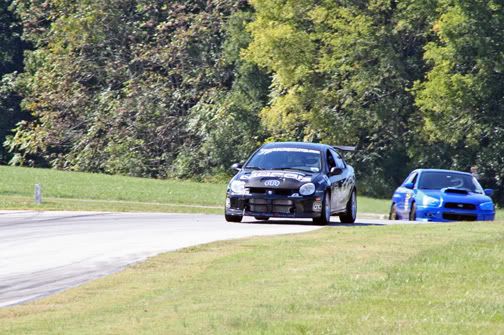 Practice lap times were qualifying drivers for hot-lap gird positions. After an hour of practicing I had the lead over the street class cars warming up, but the "victory" was short lived as I was quickly outrun by a Mopar/Continental Tire SRT- 4 Neon. After a brief lunch break the street class competitors were called to grid for our day one hot-laps. I was qualified right behind the Mopar SRT-4. Another STI sponsored by Boxer4Racing and Continental Tire and a heavily prepared Slick Motorsports EVO – sporting, among other things, upgraded cams, intercooler, header-back exhaust, an FP Green turbo, and KW coilovers – were holding down the 3rd and 4th grid positions respectively.
The four of us were set loose to see who could post a good run with the clock officially ticking.
Click HERE to read the balls-to-the-wall conclusion on HamfistRacing.com