Like the title says, no head gasket for the engine. It's possible and it's done already by Roger Clark Motor Sports, and their race car is very successful and reliable and running for 3 years already without trouble.
However there is a catch to this, the existing cylinder head o-ring of RCM is for 2.0L Ver 3 to 4 STi heads only. And it needs a close deck block to make it work.
Here are the parts needed
http://www.rogerclarkmotorsport.co.u...?productID=281
http://www.rogerclarkmotorsport.co.u...?productID=279
http://www.rogerclarkmotorsport.co.u...?productID=280
There are a few companies that offers to convert a semi close deck to full close deck, as an example
http://www.outfrontmotorsports.com/engine_blocks.htm
other sleeved engines look almost closed deck, it's very hard to decide based on the picture alone if this can be considered a close deck.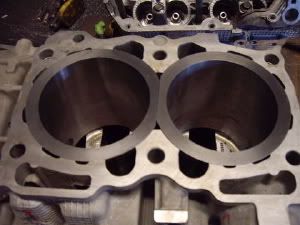 I can't remember where I got that pic and I don't know what sleeve was used.
Now will RCM make those products for 2.5L engine? Maybe if there is enough volume/demand for it, maybe they will consider making it.
Now why am I interested with this stuffs?
1. because I hate the idea of blown head gaskets
2. I'm whp greedy
. the more power the engine is making, the more chance the head gasket will blow. Please don't tell me it's all about tuning, I read that so many times already and I believe that at extreme whp level, it's only a matter of time and the head gasket will blow
3. Same goes for the parts used and the engine builder. Even if you use " the "best billet crank", "best rods and pistons" and "best bearings" and you got the "best engine builder", head gasket is at risk of blowing up at certain power level.
I know that there are sleeves that dropped, but this thread is not about dropped sleeves. If you like to discuss/debate about sleeves dropping, please post it here or make your own thread about sleeves dropping
http://forums.nasioc.com/forums/show....php?t=1637890
I called AEBS the other week and was asking for their sleeves, the guy told me the biggest problem would be the head lifting and the head studs don't have enough clamping force. I'm hoping the RCM 14mm head stud can take care of that. btw bertune is putting that on his build and I'm really excited to see the results
http://forums.nasioc.com/forums/show...1611860&page=7
and I wish he can break that 800whp level with the help of the RCM 14mm head studs
I know there are other guys that are interested at this, I'm really interested at doing this if I can have a close deck 2.5L block and if RCM will make it for 2.5L engine.