So the other day my girlfriend came home, pulled in, went to straiten out, and didn't realize that the car was still in drive, and when she gave it some gas to back out, she not only gave it a little much gas, but was still in drive... this sent her over the curb (as seen in the below pictures), and into the stairs and railing about 18 inches after the curb, pushing her drivers side quarter pannel back. Unfortunatly she didnt want to wait for me to get back to help her, and back off the stairs, which i guess is understandable. This tore a large portion of the bumper cover off.
I managed to get the splash guard into the origional position with some zip ties and unbending some of the metal supports that were pushed back. The spash guard was all good, I took the car for a drive around town, it drove just fine, and we though everything was great.
The next day, she was about a block from work when strange things began...
Her car went into limp mode (at least thats what I gathered from her description), her "AT OIL TEMP" light went on, along with the CEL, oil light, and other lights too. (She said that all of the warning lights went on. She pulled over, and got out the AAA info to call a tow truck, but decided to try to make it the block to work. She started the car, and all lights were off, and the car drove fine. After I got off, I went to pick her up, checked everthing out, and after seeing that all fluids were at the perfect levels, coolant looked fine (Probably not neccessary to check coolant, but why not?), and all that... the only think different was a small pannel on the drivers side, further in than the damage had flipped down. I put this back up, and we drove her car the 20 miles home. It ran great.
Yesterday, no problems what so ever.
Today, She had the same problems with the CEL, AT TEMP, and such. She stopped, restarted, the car was fine for about a mile, and then it happened again. (This happened before the engine was even warm)
Anyways, we are replacing the bumper tomorrow morning with a replacement I just got from a junkyard. I will try to pull the CEL code tomorrow if its going to be there (ill try either way).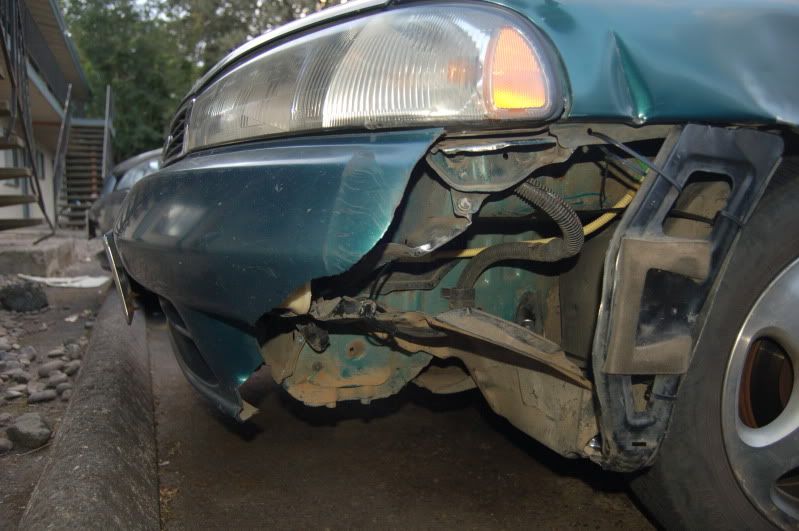 And the railing/stairs. You can see how far her car went onto the stairs by how far back the rail is. This also lifted her car *slightly* up.
luckily, for anyone who is wondering, the stairs will be okay.
I am assuming this is an electrical issue, although im not sure. There were no mechanical componets that I can see any damage what so ever on.
I know its a long post to read, but I really appreciate anyone who can give any advice or direction. thanks for taking the time to read!