Earlier this week I attended the
Audi Sportscar Experience
R8 Advanced Two-Day Program. I figured you all might be interested in my impressions.
I know, Audi R8's are kind of far from Subaru stuff, but my brother owns one and we thought it would be fun to attend the school together.
Just by way of background: I've been doing HPDE stuff for about fifteen years, probably 2-3 track events per year. I'm normally in the advanced driving group. I feel I have plenty of experience and comfort on the track, but I don't have any illusions of superior skills -- I don't do it often enough to be good. I do like to get instruction any chance I can. I've done a couple of other schools before, including a Skip Barber one-day open wheel thing.
The R8 advanced two-day program is only offered at
Infineon Raceway
in Sonoma, CA. The surrounds are nothing special -- it sort of has that bare, no vegetation look that every California track seems to -- but the track layout is extremely technical, with no long straight and a ton of unusual corners. There's a lot of elevation change, and you get a blind hill crest, off camber corners, and increasing and decreasing radius corners. There's also a bunch of concrete wall to keep your hands sweaty.
The Audi facilities are just what you'd expect, which means a modular stainless-steel-and-glass construction lounge/dining area, flat-screens displaying Audi videos, display cases with Audi goodies inside. I learned from one of the instructors that the facilities were actually built before the Audi deal was signed -- the red/gray color scheme was completely coincidence.
The first day began at 8am with a very nice breakfast in the lounge (fresh berries, espresso, pastries...), followed by a classroom session. We went out to the parking lot for a refresher tour of the R8 and how it works. At least one of the other R8 school programs was a prerequisite of this class, so that didn't take long. As far as I know, though, only two out of twelve students were R8 owners.
After that we paired up and drove over to one end of the track where there was an autocross course laid out. We worked on driving the car smoothly and cleanly through the tight course for maybe 45 minutes, swapping drivers, so twelve students shared six R8s. We used automatic ("R-tronic") models for this segment, to keep things simple.


Autocross vid
The car is not light -- 3600 pounds -- so it didn't respond well to manhandling on the little course. It would easily overpower the tires on acceleration or braking, so I felt I had to be pretty delicate with the controls. Despite the weight, the car definitely accelerates well -- 420 hp will do that. The V8 sounds awesome. The car is AWD, but it's very heavily rear-biased, and will only shift a maximum of 20% of the power to the front.
The car is about the same length as a WRX at 174.5" long, but it's WAY wider. Like, almost 8" wider. That took some getting used to. (The roof of the R8 is also 7.5" lower than a GD-series WRX...)
After autocross we went over to the upper end of the drag strip area and did some practice work on heel/toe downshifting with the manuals. Heel/toe isn't anything I feel I need to work on at this point, but the gated shifter did take some getting used to. Many of the other school guys were not so familiar with the whole idea of rev-matching, so for them this part of the program was probably a good idea. We'd find out how much you can unsettle the car with the botched downshift soon enough.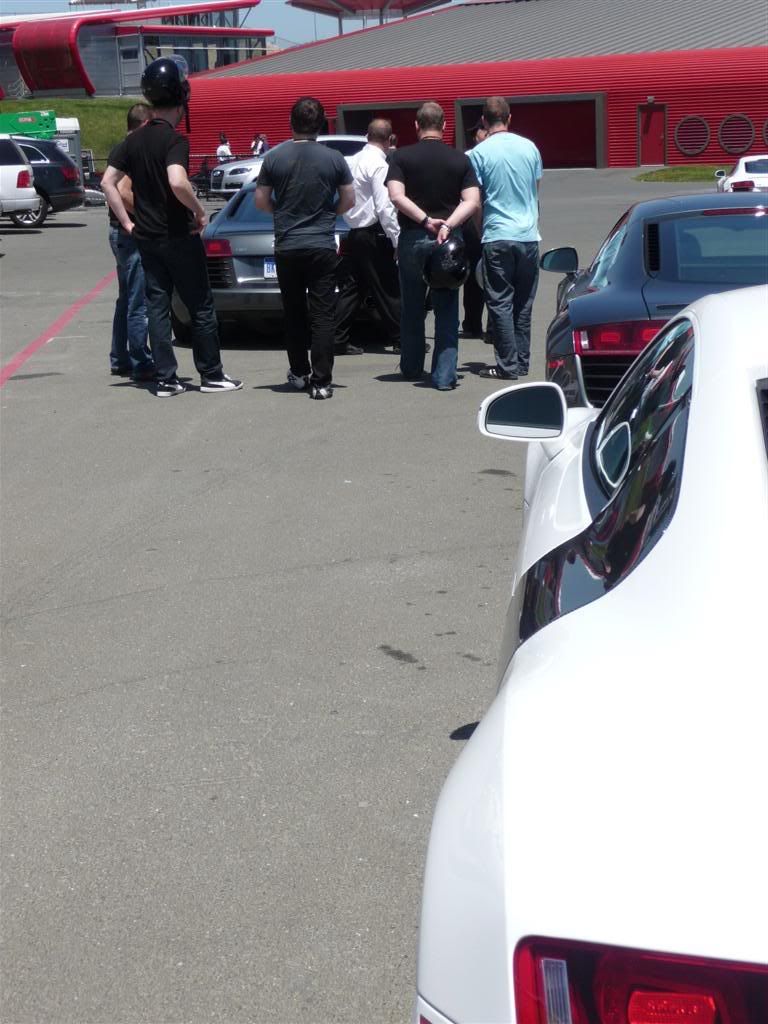 Next we got to actually get in the cars for laps on the main track. (Helmets and spiffy Audi-embroidered head socks are supplied.) We again shared one car between two students, and we took turns following an instructor in another R8, learning the proper racing line and getting a feel for the car on the track. We did a few laps each then went back to the glass/steel lounge for a more-than-decent lunch.
One interesting feature of the program was video recording hardware installed into each car. One camera faced the road, one faced the driver, and a USB key we were issued tagged the video to each driver. We'll be receiving a DVD of our exploits (embarrassing or otherwise) in the mail after a few weeks, I'm told.
After lunch it was back on track for more lead-follow laps. We cranked the speed up higher and started to use trail-braking to get the car rotating. We were in three-car convoys at this point, and we'd rotate cars following the instructor, two or three laps at a time. We had our choice of stick-shift or automatic cars. By the end of the day I was feeling more comfortable for the car's (ridiculously high) limits, and was feeling more secure in bringing higher speeds into some of the scarier parts of the course.
The next day was another yummy breakfast. (I cut back on the espressos -- I was too jittery the previous day!) Then we were back to the autocross course for a little competition. We'd have two laps around the course for time, one practice run and then one for time. We'd have an instructor with us to give feedback. My instructor said, "The most common mistake is to bring too much speed into the corner. Everyone is doing that!" So after a nice tidy 1 1/2 laps, what did I do? Overcooked it into a chicane and ended up with the car completely sideways. So much for my listening skills.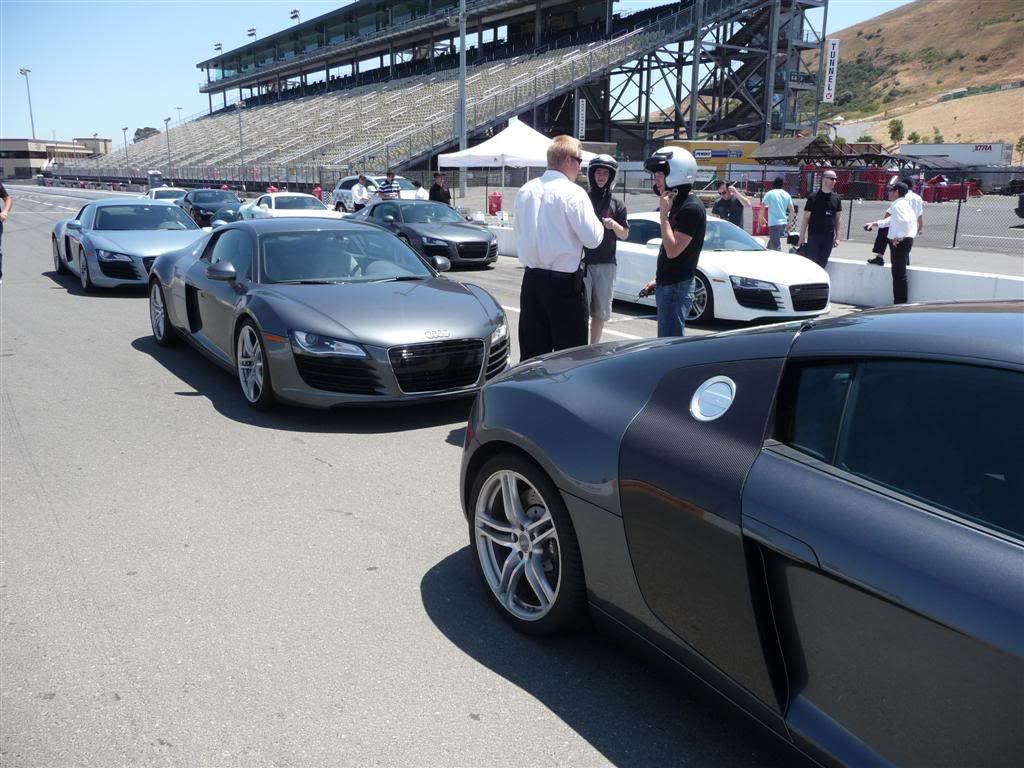 Now we went back to the main circuit for more lead-follow stuff. This time we paired up one student car to one instructor car. The lack of a second student car meant the instructor could lead as fast as the student could follow, so the quicker students weren't held up by the slower ones. Speeds were continuing to increase through the first part of the day, although I confess I never did look at the speedometer much, nor did I time any laps.
The instructors were all pro drivers, with tons of experience in Grand Am, karting, ALMS, and other racing. Some of them have their own web sites...like
Nico Rondet
, and
Tom Dyer
. Head instructor Ken Dobson won the VIR Grand Am race last year in a Cobalt SS.
The last half of day 2 had us driving the R8s with instructors in the passenger seat, HPDE-style, and then the students LEADING the instructors. This last part was interesting because they didn't have enough R8s to do six students and six instructors on the track at once, so they used some new Audi S5s they had laying around. So now we know that a pro-driven S5 (365 hp, 3891 pounds) can keep up with a student-driven R8, no problem. One fun part of this was that the student who was not driving could ride in the S5 alongside the instructor. That S5 was obviously working a LOT harder to move around the track that fast, and it showed as the car slid around a lot while the instructor drove it, and the grip went away as the tires started to heat up.
I'd like to say my whole time driving the R8 was without incident, and I did get some very nice feedback for my final sessions. But there was one little lapse midway through the second day...my instructor was asking me to be more economical with my steering inputs, and I took that to heart and managed to not put enough steering angle in before a high-speed sweeper. I couldn't correct in time to make the corner, and drove across the dirt, cutting off a curve and then getting back onto the track. I think my instructor sprouted a few more gray hairs at that point, but he was very nice about it and didn't give me too much of a hard time.
The final treat was the "hot laps" segment, where we sat shotgun while the instructors took us on three laps at race pace. I've had this eye-opening experience before, so I was prepared to be humbled, but I still found myself shocked at how much higher the speeds were in parts of the course. Places where I was doing maybe 50 mph, they were doing at like 70 mph. Tires howling, the car loading and unloading, pitching around corners in full-on four-wheel drifts, it was a riot. Very, very thrilling.
And then it was all over. The two days blasted by like a couple of hours. I enjoyed the program for several reasons. One was that the instructors didn't treat us like babies. We were handed a lot of responsibility right from the start, and expected to behave and treat the property with respect, and were not lectured to. (I've dozed my way through more than a few condescending HPDE classroom sessions...)
Also, the hardware itself is just amazing. There were EIGHT R8 cars out there. That's a clean million dollars worth of cars, and they're all at risk. (If you ball up a car during this event, you as a student are not liable for the damage.) I am amazed at the trust and the level of risk tolerance implied in this.
The R8 is an incredible car to drive. I just don't have the resources to own this car, much less risk it on a race track, so the opportunity to be able to drive the car on track is unique. (I know people with this kind of car, but none of them has ever handed me the keys at the road course and said, "Here, take it for a few dozen laps!")
The instructors were very cool, too. All were clearly talking from experience, and demonstrated what they were talking about so we could see the results first-hand. They were uniformly positive, even when they had some students who were a little more stuck in their bad habits.
Going back to the expense and liability thing -- it almost seems like the dollars involved, and the risk associated with those dollars, don't make financial sense. I find myself wondering if they can afford to keep doing this program. So, if you have the notion that you might like to try it, I'd save your pennies now and do it sooner rather than later. Who knows when the Audi corporate overlords might change their minds.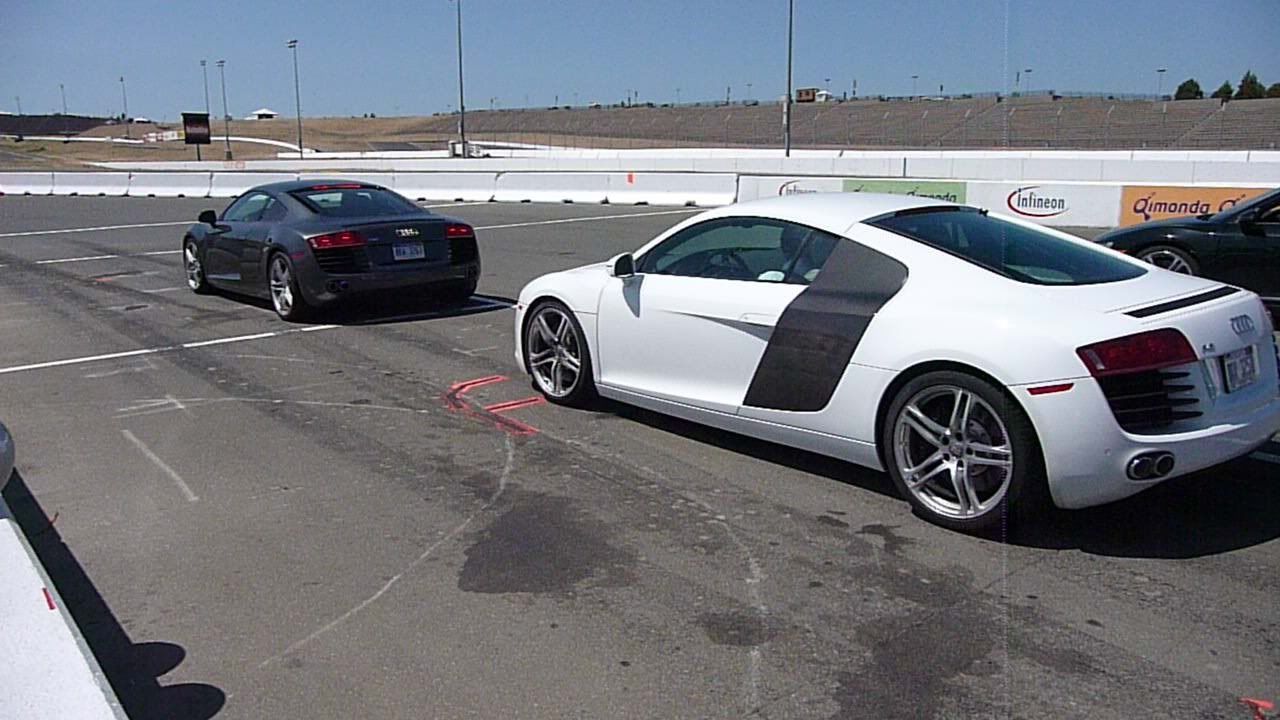 --Dan
Mach V
FastWRX.com