2009 wrx 5 door DIY tail light overlay mod:
Conducted by Super_HKS
So let me start out by saying this mod is AMAZING. So after thinking of some cheap tint overlay ideas at work while
being bored out of my mind, I googled transparent red paint and sure enough I ran into the Krylon stained glass
spray paint. I knew right away for 9.99 I couldnt not try it. Well after telling my buddy about the mod, he told
me that a couple guys on nasioc had already done it. I was a little bummed cause I honestly thought I was going to
be super innovative and genius but someone already beat me to the punch. Well good news is that all the DIY mods
for the tail light on nasioc are for a 2008 wrx and the 2008 and 2009 wrx are a little bit different in terms of
removing the lights so basically in this demonstration, I will show you guys step by step on what to do. Hope you
enjoy because I sure did. Best 9.99 spent on the car yet.
Materials needed for this mod:
-Window cleaner (Lights need to be clean when being painted)
-Krylon transparent (color code is 9020) (I purchased mine at Michaels)
-A small ratchet
-10 MM small socket
-8 MM small socket
_An extender to reach the bolt to remove the reverse lights (Extender is shown in pix)
-Painters or masking tape
-Towel or a clean material for cleaning lights (preferable microfiber cloth)
-Phillips screwdriver
-flat head screwdriver or some type of flat item
-Clear coat enamel spray paint
Directions for removing both lights:
1. Start by popping the hatch open.. For the outer lights, start to loosen them by using the 10MM socket. Once
loosened (doesnt take much), take your flathead screwdriver and remove the bolts out.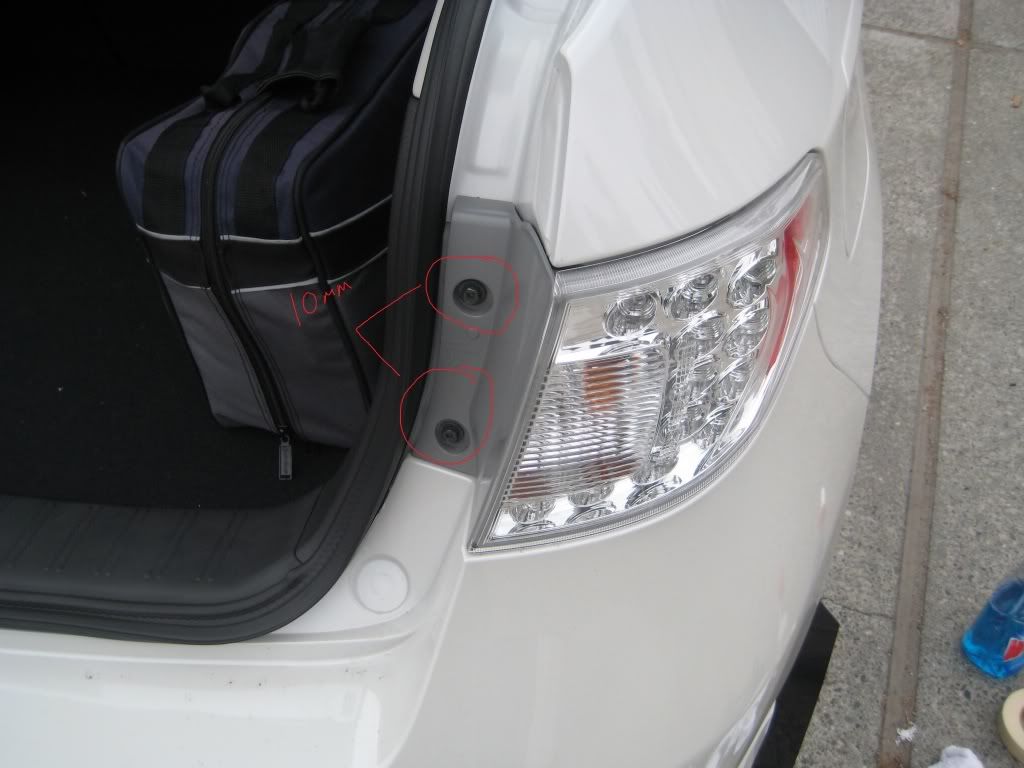 2. Use a little force and remove the lights. (dont be affraid to show the light whos boss, your not going to break
it). There is no other bolts of screws holding it in place. Once the light is removed, remove the clip that
connects the lights up. (Put light aside and repeat with other side)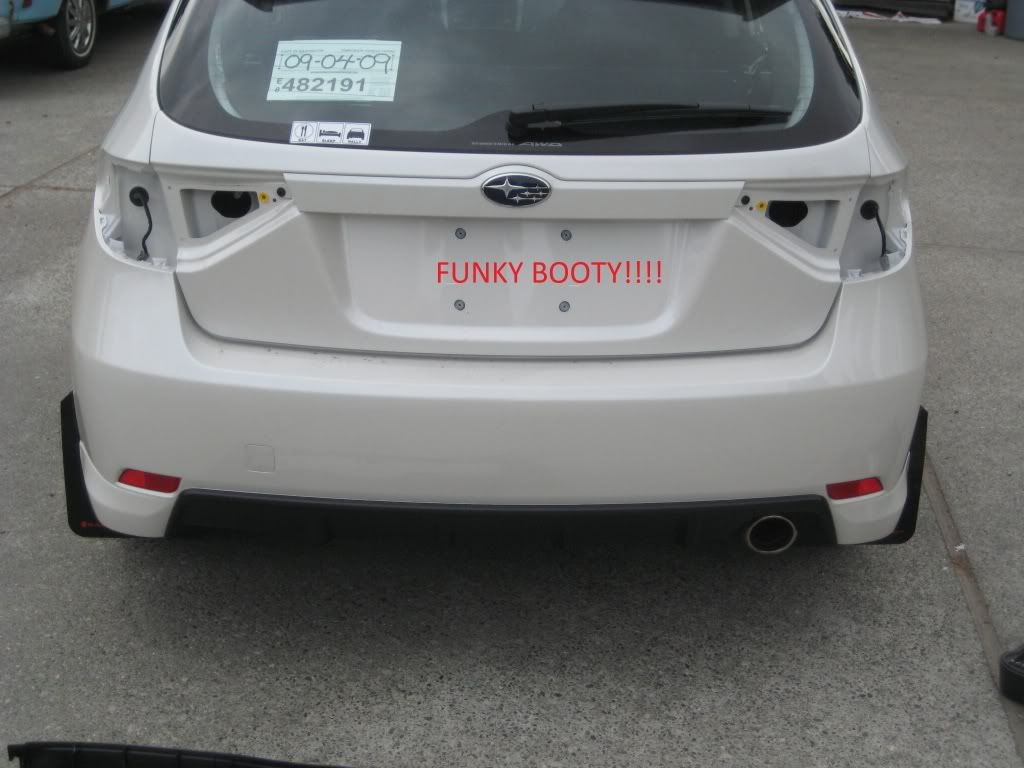 3. Now we will move on to the revease lights, remove the plasic covers on the inner hatch liner. (use a flathead or
another item that can get it open)
4. Remove the clip that connects from the car to the rear bulb
5. Also remove the bulbs so you can lay the lights down flat instead of having them slant. (To remove the bulbs,
just twist slightly to the left)
6. Now this is probably going to be the hardest part of the whole mod. Removing the liner in the hatch. Basically
just yank and pull it around until the clips snap out. Dont be affraid to pull it hard. It will sound like your
breaking it but it is very very sturdy plastic. Once you yank the liner out, move on to the next step.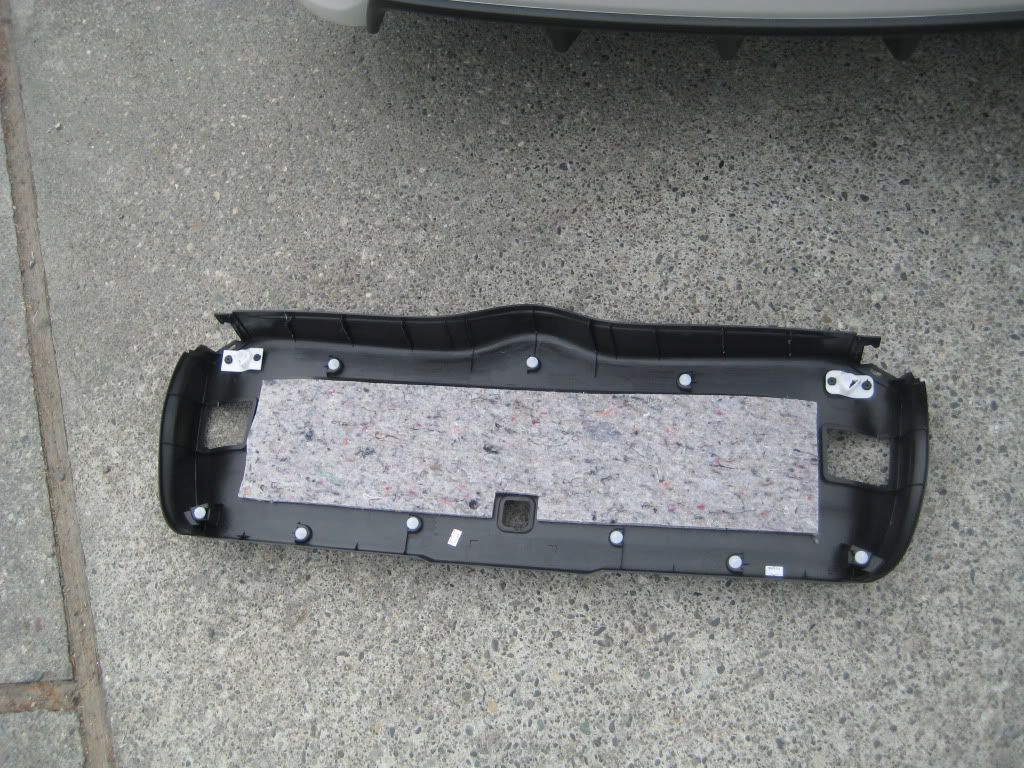 7. After that is done, take your ratchet and your 8 MM socket and remove the 2 bolts connecting the tail lights
8. Now left is 1 more nut and this is a tricky son of a bitch. What you will need to do is throw on your extender
and reach up into the area and loose the nut and get it out.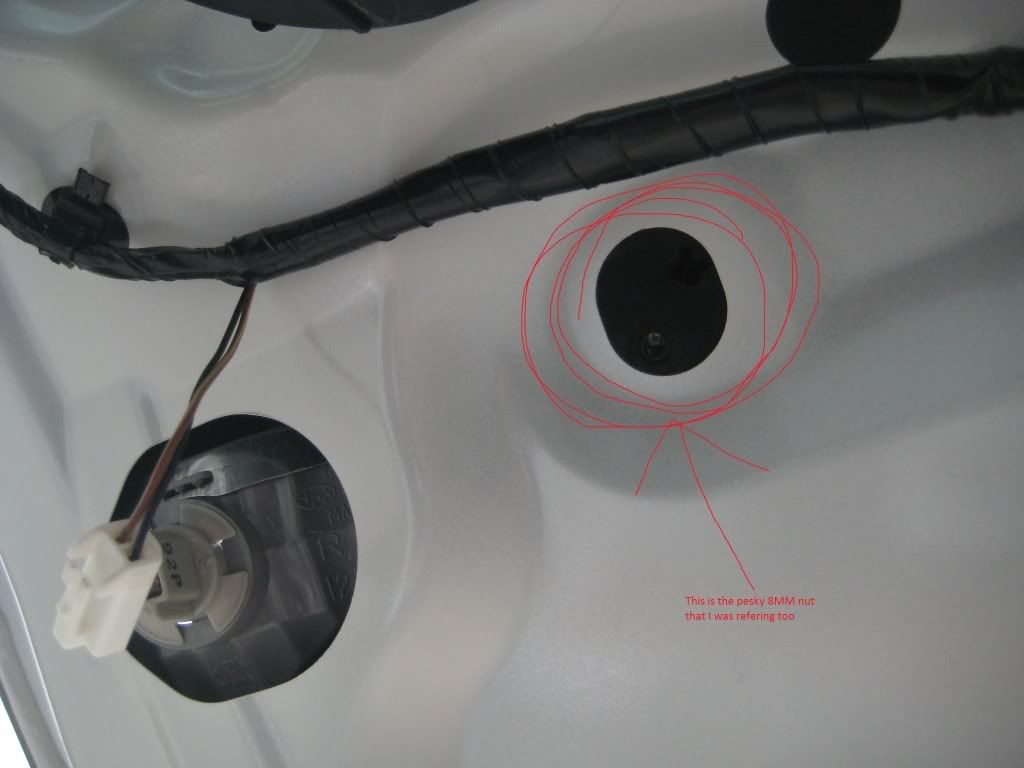 9. After you remove the nut, remove the light (repeat on both lights), now we can move on to prep and paint