**Sold**
After much debate it is time to let my baby go to fund a new project.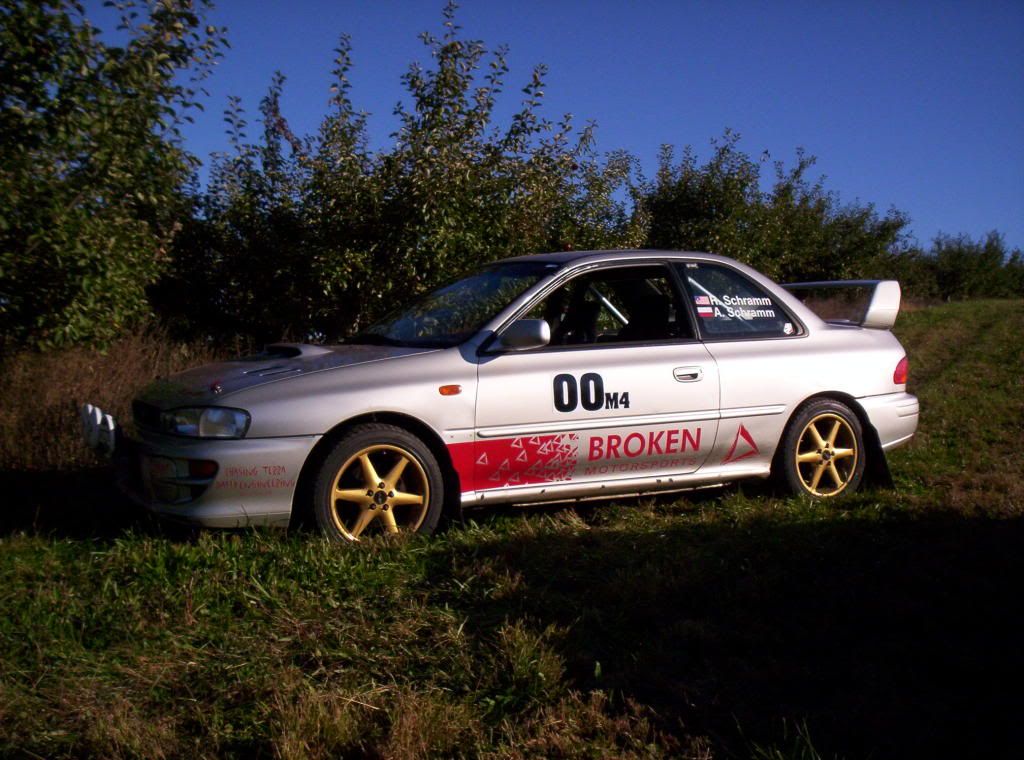 -2001 Subaru Impreza 2.5RS Coupe, Silverthorne Metallic
-155,000 Miles
-NO PART-OUTS!
I bought this car new off the Cole and Burd dealer lot (Mansfield, PA) with less than 10 miles on it, and have been the sole owner. I literally showed up and drove it off the delivery truck in October 2000. It has been my chariot of pride, joy, determination and love for the past 9 years while I resided in Wellsboro, PA, Maine, New York and finally back to PA outside of Philly. I have a long and storied history with this car, and has really been the love of my life for years (don't tell my wife, please). It was my daily driver until 2005, and has been my secondary and "fun" car ever since. I have put only 21,000 miles on in the past 4 years, mostly to-and from events and coursework for some local TSD and performance rallies. As with all the 2001's this car came loaded from the factory with every option available- premium 6 speaker sound, sunroof, rear bumper protector, alarm system, factory rear limited slip differential ect. I have a well documented service and warranty history and have been religious with fluid changes since break-in. All maintenance has been by: Cole & Burd Subaru in Mansfield, PA, Bath Subaru in Wiscasset Maine for Warranty work, Broken Motorsports in Union City NJ, or myself.
Many of you have seen or ridden in this car at many east coast rallies or rally cross. This car is capable of winning any national level M4 class rally cross in the right hands, and is set-up similar to a previous year's national class winner.
Mod List:
Interior-
-Custom, fully Tig-welded 8 point roll bar with harness bar and door bars. Legal for Auto-x, Rally-X, and track days/hillclimbs.
-Full stock interior except carpeting and back seat to make room for the roll bar. Door cards are uncut. Trunk trim removed.
-Sparco 3" Camlock Harnesses
-F1 Spec Type 3 Fixed back seats, aluminum side mounts and Sparco sliders and seat brackets. The brackets have been reinforced to minimize flex. Fully adjustable for height and seating angle. I can offer the stock black RS seats with the car if you don't like the narrow fit of these.
-Flocked Dash, center console and glovebox with WRC Blue interior.
-Factory center pod with custom switch panel for light bar
-Stock CD/radio with underseat subwoofer harness. Speakers and subwoofer have been removed to shed weight (underseat sub will not fit with current seats). Can include 4 Sony xplod speakers if desired.
-Black flocked plexi rear speaker delete panel (reduces glare)
-Sparco Shift Knob
-Flocked Passenger airbag delete panel for weight savings. Can include a working pass. airbag if desired.
Exterior:
-V5 Sti rear wing w/LED brakelight
-Genuine STi Fog covers
-Genuine STi Clear Corners
-Sparco Hood pins
-Custom, one-off stainless light bar with 2x Hella 1000 and 2x Hella 500 Driving Beam lights. Removable with two bolts, stable and the harness plugs into the lights for easy removal. Lights are controlled by cabin switch to high beam.
-Full Primitive F+R Aluminum Skid plates
-Blue Grill Badge
Suspension:
-FHI 19mm rear Sway bar, plus stocker for snow use
-"Rally-Fast" Special backroad burner coilovers- Megan Threaded Struts and Camber Plates, one-way adjustable dampening, HyperCo Blue 2.5"x12" Springs- You will be hard pressed to find a faster suspension in real-world road use. Good for tarmac and autocross use and smoother rally cross. I have a variety of spring rates to choose from and will include a few sets. The RR Strut was bent and awaiting a replacement on backorder.
-Stock struts and springs for snow use and the tougher rally cross courses- on the car now.
-Assortment of Whiteline Urethane bushings
-ARP Hardened 3" Wheelstuds and Muteki open-end nuts.
-Rebuilt hubs F+R with new wheel bearings, seals and ball joints. New tie-rod ends also.
-Prodrive gravel alignment specs
Drivetrain:
-PDM Intake
-Reflashed ECU
-JNorth Radiator Shroud
-Speed and RPM sensor wires tapped for Rally computer use.
-Genuine Hayward and Scott UK Scoobysport Stainless Exhaust w/stainless non-resonated midpipe. Arguably the best sounding N/A exhaust ever produced, painstakingly hand-built and cost over $1000 when I imported it a few years back.
-Exedy Clutch with ACT Light Flywheel, installed less than 10k miles ago.
-Hawk HPS Pads front/Metalmaster PBX pads rear
-Slotted/drilled rotors
Disabled ABS for gravel use. It is set-up with more brake torque at the rear, and coupled with the disabled ABS it helps to lock the rear slightly before the fronts and rotates the car more easily in Scandinavian-flick maneuvers.
Wheels/Tires:
Your choice included with sale:
-15" Legacy Gold 5-spokes with Michelin Gravel Rally Tires, medium compound
-15" Nokian Hakkepelita Snow Tires on Gold Legacy 5-Spokes
-16" Kumho Ecsta ASX on Aftermarket Gold 6-spokes
Can add additional sets for additional price.
Recent Maintenance:
Clutch, Flywheel, Timing Belt and Water Pump 13k ago
Valve Cover gaskets and Spark Plug Boots 8k ago
O2 Sensors 5k ago
New Fuel Filler and evap sensor neck replaced last week, less than 30 miles
New Battery Last year
Rebuilt Hubs with New bearings, seals, ball joints, tie-rod ends and the longer, ARP hardened wheel studs
Rear quarter rust professionally cut out and repaired.
Some potential issues:
The paint is not perfect. This car has been outside most of its life and shows the chips, scratches and small dings normally found on a car that sees gravel use. It has had many different vinyl graphics for sponsors on the car at different times, and some of the clear coat is faded or dull. The quarter panels have been well-repaired after some of the usual rust, but the paint is not a perfect match and you can see it if you look closely. If you are looking for a show-car, you may be better off with a re-spray of the car or going elsewhere. If I were keeping the car I would paint it, or cover up some of the ¼ panel with vinyl and try to buff out some of the dull spots.
It really needs new rotors and pads all around. I cooked the rotors too hot once this spring and they have the usual pedal-pulsing shimmy. The rear pads squeal a lot but stop well, probably amplified with the no carpet or backseat interior.
Otherwise the car is in good shape, pulls strong and is fun to drive; definitely more than the sum of its parts.
$6500 OBO, Negotiable. Title in Hand.
Located in West Chester, PA. Can arrange delivery to Broken Motorsports (NNJ/NYC area) or Williamsport/Wellsboro PA area. Serious buyers only, no tire kickers or joy riders please.
[email protected]
Pictures in various states:
http://i141.photobucket.com/albums/r...fast/022-2.jpg
http://i141.photobucket.com/albums/r...lycross072.jpg
http://i141.photobucket.com/albums/r...s/101_0110.jpg
http://i141.photobucket.com/albums/r...crossNY022.jpg
http://i141.photobucket.com/albums/r...crossNY021.jpg
http://i141.photobucket.com/albums/r...pics/263rh.jpg
http://i141.photobucket.com/albums/r...s/IMG_8356.jpg
http://i141.photobucket.com/albums/r...s/101_0067.jpg
http://i141.photobucket.com/albums/r...s/101_0066.jpg
http://i141.photobucket.com/albums/r...101_0126-1.jpg
http://i141.photobucket.com/albums/r...101_0127-1.jpg
http://i141.photobucket.com/albums/r...r/101_0131.jpg
http://i141.photobucket.com/albums/r...r/101_0129.jpg
http://i141.photobucket.com/albums/r...locking013.jpg