As many of you know heat is your enemy in the engine bay. It heats up your intercooler, engine, hoses, oil and coolant. Everything is connected in some way, and you may not even realize it. A coolant line could be near a heat source, and is inadvertantly being superheated as it passes by. These are things you have to look for when modifying a car and moving things from their stock positions.
We are big advocates of drivability and cooling. So when we recently switched our GDF STi from a FMIC to a TMIC we looked into keeping it as cool as possible in our modfied engine bay.
For reference we are running a FP 20g, with the TD06h housing and 8cm wheel, the biggest 20g out there. We are also using an APS 65mm CAI and a Perrin TMIC.
We decided to tackle the biggest heat generator in the Subaru engine bay, the Turbocharger and downpipe. We went with DEI's new Titanium brand heat wrap and turbo blanket kit (full specs in our FS thread). So far we are very impressed.
The blanket is made completely from the Ti wrap. It is woven together to form a double thick blanket and sewed on the edges to create a nice saddle effect. This makes it fit snuggly over the turbo housing effortlessly. The best part about it's single material construction is that there is no shell stuffed with a fiberglass weave. Therefore there is nothing to seperate and fall apart. It's a solid piece. It also allows for a lower overall profile, so it fits under an IWG actuator arm, no interference whatsoever.
There are 3 metal hooks riveted to the blanket, so you can anchor it to the turbo and downpipe. The blanket fit completely over the hotside housing of our 20g and we secured it with the provided safety wire, it isn't going anywhere.
We then moved on to wrapping our downpipe, we did this prior to installing it in the car. One 2"x50' roll wrapped our Invidia downpipe all the way back to the first hanger bracket, and we had some leftover. It was easily wrapped around the the pipe and secured with the 14" SS locking ties we got form DEI. We used no spray adhesive, we figured securing it tightly with 6 locking ties spaced about 6" apart would be enough. This stuff has a nice slick feel already, so it should have no problem shedding water.
Once the downpipe was mated up we ran the car and let the wrap heat cycle a few times. We noticed that the DP and turbo flanges still gave off a lot of heat, so we used our extra Ti wrap and completely covered up the flanges, securing it on the downpipe with more locking ties.
You can see the difference here:
Unwrapped Flanges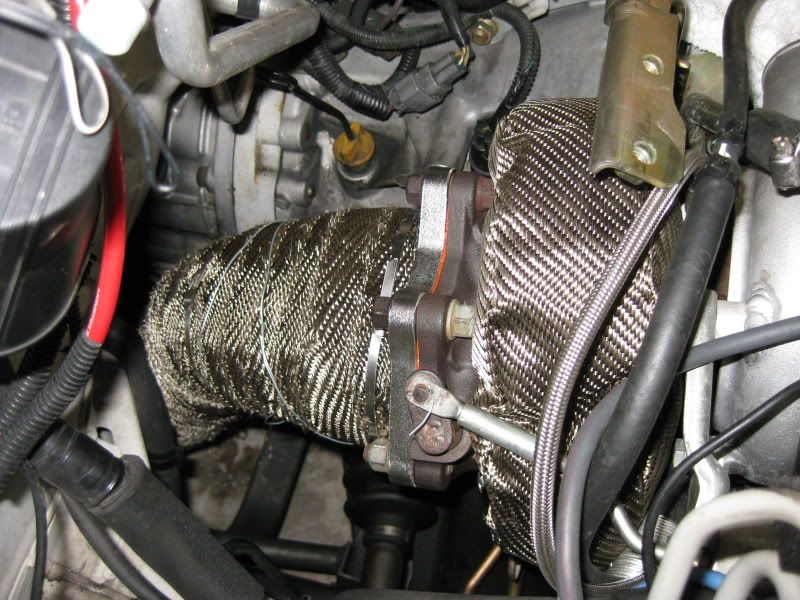 Wrapped Flanges: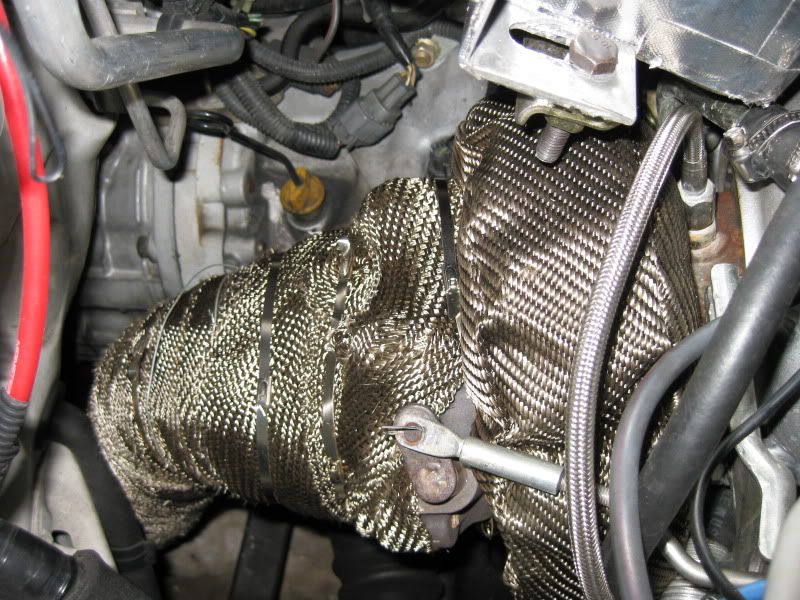 Now we are very impatient when it comes to mods, so that leads to be less than scientific. We just like installing stuff, what can we say
However the difference in heat is immediately noticeable. Where before we couldn't even hold our hands over the turbo/DP area after normal driving it is
considerably
cooler above that area now. The surface temp of the wrap is still hot, but is retains the heat, not radiates it. This is hugely important since the TMIC sits
directly
above the turbo.
Ok so moving on to the actual TMIC itself, what can we do to ward off heatsoak? Try and radiate as much heat away as possible.
So we got some Cool-Tape from DEI. It's an aluminized heat reflecting tape that can handle up to 1500 degrees of radiant heat, not too shabby. The tape itself is very easy to work with, it's pliable and easily cut into whatever shape you need. We decided to wrap every inch of non-flow surface on our Perrin TMIC. It took us a loooong time but this was the result: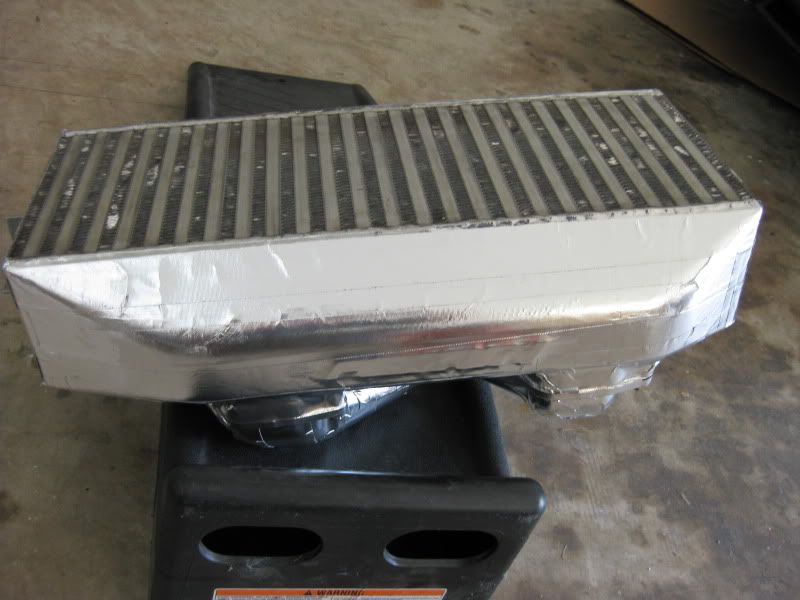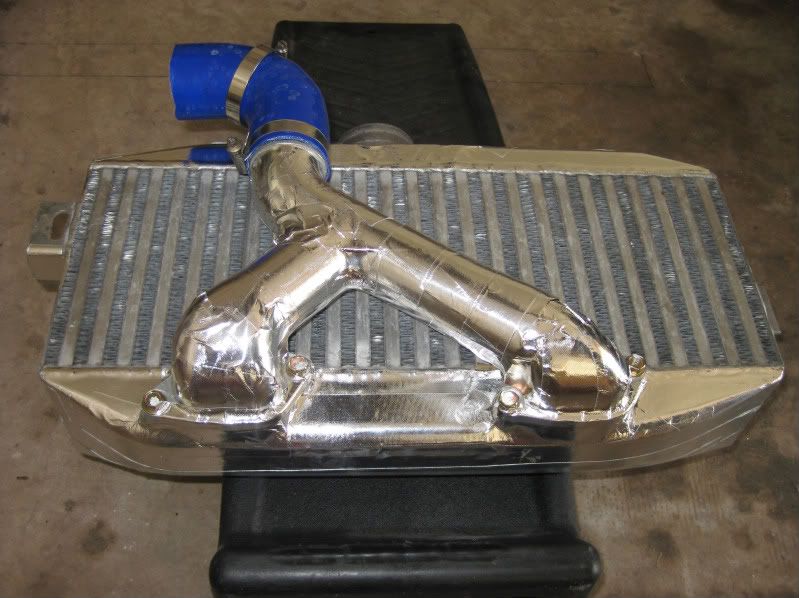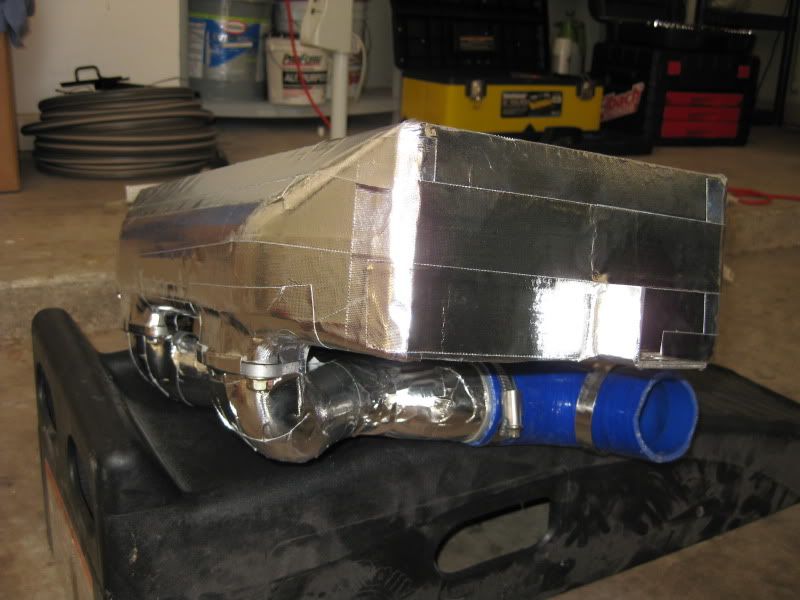 The results were dramatic. You can now put your hand on the side of the intercooler that directly faces the turbo/DP area and it is barely warm. The face of the intercooler is actually
cool
to the touch.
Before this the face of the intercooler was usually warm after normal city driving, and the side facing the turbo was warm-to-hot.
Now we know this method of measuring isn't as good as solid laser temps and internal air temp. measurings with a thermometer. But like I said...were impatient and just wanted to get this stuff installed wihout too much fuss, plus we dont have a thermometer or a tapped hole for one in our TMIC outlet.
We are in love with the Cool-Tape and found a couple other uses. One was to isolate the fender area where our CAI draws air from radiant engine bay heat. The cooler the intakes air, the better. So we decided to cover up the 2 large holes into the fender area, and a few smaller ones, seen here: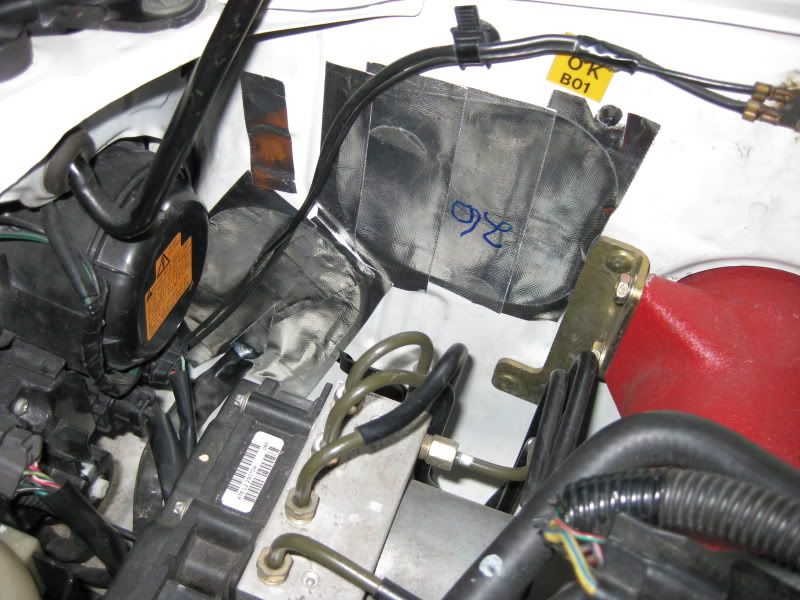 Overall shot: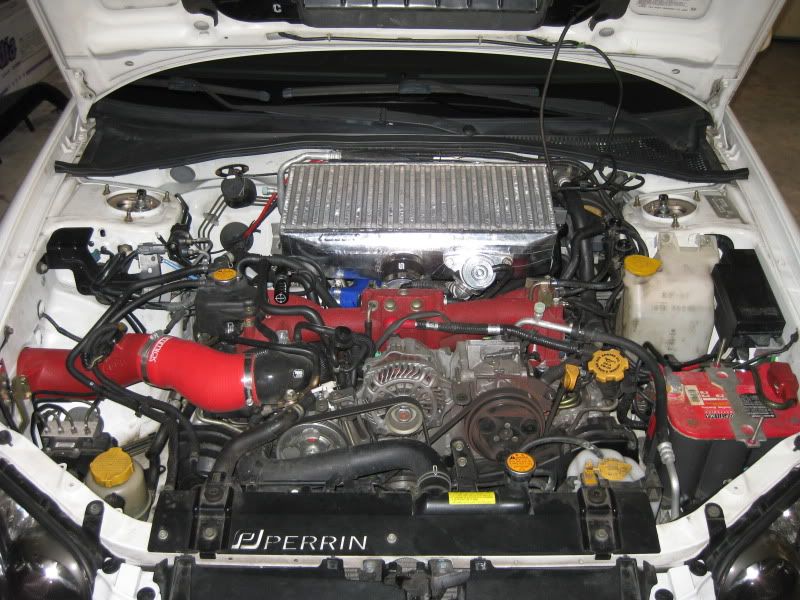 Overall we are very satisfied with our DEI cooling improvements. They have done exactly what we set out to do, minimize engine bay heat and TMIC heat soak. We also made sure our CAI wasn't drawing in hot engine bay air.
Next we will be maximizng airflow to our larger TMIC and making sure our intercooler sprayer system delivers water to the entire surface of the intercooler.
We will then be moving on to increasing our radiators capacity and installing an external oil-cooler. We will also be looking into some vents for our stock hood.
We will be posting up our findings and ideas for you guys to read.
If anyone is interested in any of these DEI items we have a GB thread here:
http://forums.nasioc.com/forums/show....php?t=1836432
It has all the specs and heat ratings with pics of the products un-installed.
Feel free to PM us with any questions or pricing on the DEI stuff, Invidia downpipe, APS intake, Perrin intercooler etc. After installing everything we are familiar with it all.